CSC News
November 29, 2021
In-Person Fall Diploma Ceremony Set for December 10th in Reynolds Coliseum
Please join us as we recognize our graduates in-person during the NC State University Computer Science Department's Fall Diploma Ceremony on Friday, December 10th at 3:30 p.m. The ceremony will be held in William Neal Reynolds Coliseum on the campus of NC State University, located at 2411 Dunn Avenue, Raleigh (directions).
All attendees, including graduates, guests, faculty and staff, are required to wear protective face masks. (Students are encouraged to decorate their masks just as they would their caps.)
Approximately 150 graduates are expected to receive their degrees during the ceremony. Our special thanks go to the NC State Engineering Foundation and the ePartners Program for their generous sponsorship of this event.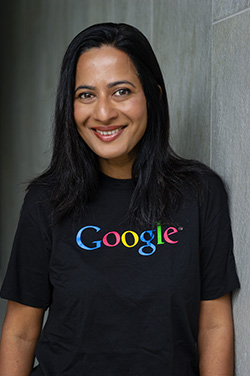 Kamala Subramaniam, the Google Engineering Site Lead in Durham, NC, will deliver the keynote address.
In her role as engineering site lead, Subramaniam is responsible for growing Google Cloud's presence in North Carolina and building an ecosystem of academia, the industry, and the local communities. Subramaniam will focus on research, scientific discovery, and technological advancement, all with a keen focus on diversity and inclusion.
She began her career at Google in 2016 in the Bay Area where she was an engineering leader for Google's infrastructure networks. Subramaniam works on the scalability, efficiency, and reliability of all of Google's networks - Data Center Networks, B4 private datacenter networks, B2 internet facing WAN, and the Cloud Network. Her experience is in building strongly performant engineering teams that work on large scale distributed systems that are geographically distributed. Kamala is also the Diversity & Inclusion leader for Google Networking, passionate about hiring and growing underrepresented talent in her organizations.
Subramaniam is a proud alumna of NC State, where she received an MS in ECE and a PhD in Computer Networking. She serves on NC State's Computer Science Strategic Advisory Board (SAB).
NOTE TO GRADUATES: For the benefit of relatives and friends who may not be able to attend the event in person, the event will be available online via live video streaming at http://go.ncsu.edu/csc-diploma. Firefox, Internet Explorer and Safari are recommended for viewing the live streaming of the ceremony. To verify that your computer meets the minimum requirements for smooth streaming, please visit this site: http://www.sonicfoundry.com/site-requirements.
Parking is available in the Coliseum Parking Deck located at 201 Jeter Drive. For the convenience of guests who might require overnight accommodations, there are a number of hotels located in the immediate area. For more information, click here.
There are several ways to commemorate this special occasion. As each graduate is handed his/her diploma, a professional photographer will take his/her picture. A free color proof will be sent to each graduate's current mailing address, including a password for online viewing. There is no obligation to purchase prints. To receive email notification when photos are online, please visit www.photospecialties.com to pre-register. If a proof is not received within a week of the ceremony, please contact info@photospecialties.com or call 1-800-722-7033.
~coates~
Return To News Homepage