CSC News
November 10, 2021
Senior Design Center's Posters & Pies Planned for December 1st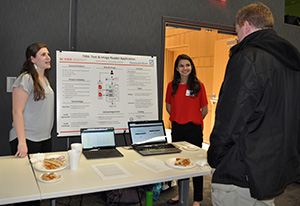 Please join us for the NC State Department of Computer Science Senior Design Center "Poster Day" event on Wednesday, December 1st, from 10:30 a.m.-1:00 p.m. Each student team will give a brief presentation of their Senior Design project in the James B. Hunt Jr. Library Auditorium. After the presentations, pizza and dessert pies will be served, and you can enjoy project demonstrations and poster displays in the Hunt Library IEI Duke Energy Hall.
The event is sponsored by Live Oak Bank, as well as the Computer Science ePartners Program and the NC State Engineering Foundation.
For directions to the Hunt Library and parking information, please go to: http://www.lib.ncsu.edu/parking
This semester, the sponsors and projects are as follows:
Bandwidth:

Automated API Validation

Bank of America

:

Project SALT

—

An Organized Effort to Identify Cyber Threats

Cisco

: Software Tools to Access Employee's Wellness

Deutsche Bank Global Technology

:

Virtual Reality Presentation

DeHaan

:

Janus – Music Transformation

EcoPRT

:

Mobile Application & Vehicle Network Controller Extension

IBM 1

:

Telescope Commander

IBM 2

:

Antimicrobial Resistance Expert System

ICON

:

Replay Honeypots

JupiterOne

:

An Open-Source Graph Database for Cyber Assets

Katabasis 1

:

AgriCoding

Katabasis 2

:

Camp Coordinator

King

:

Learning Objectives Report

Laboratory for Analytic Sciences

:

Model Repository

Merck

:

Insider Threat & Sentiment Index

NCSU Computer Science

:

Course Scheduler

NetApp

:

SPECstorage Solution Visualization

Outer Banks Blue Realty Services

:

Laundry Facility Ordering System

SAS

:

DataGenius

Siemens Healthineers

:

Schema Exploration Tool

Sunder Networks

:

Closed-Loop Network Verification
If you plan to attend, please register online at http://go.ncsu.edu/csc-posters-pies by Wednesday, November 24th, so that we may properly plan for refreshments.
Please join us! The media is welcome to attend this event.
Senior Design Center contacts:
Ms. Margaret R. Heil, Director, (919) 515-6020, heil@ncsu.edu
Dr. Ignacio Domínguez, Assistant Director & Technical Advisor ixdoming@ncsu.edu
Dr. Jamie Jennings, Technical Advisor, jjennings@ncsu.edu
Dr. Lina Battestilli, Technical Advisor, lbattestilli@ncsu.edu
Dr. David Sturgill, Technical Advisor, dbsturgi@ncsu.edu
Mr. Colin Potts, Teaching Assistant, cmpotts@ncsu.edu
Mr. Joseph Lutz, Teaching Assistant, jmlutz3@ncsu.edu
Mr. Tanner Verber, Teaching Assistant, tverber@ncsu.edu
Media & Corporate Partnership contact:
Ken Tate, (919) 513-4292, kmtate2@ncsu.edu
~coates~
Return To News Homepage