CSC News
August 16, 2021
Labcorp Speaker Series Proudly Presents Chris Stanley
Please join us on September 30th at 6:30 p.m. in room 1231 in Engineering Building 2 for the kickoff of our Fall lecture series in the Labcorp "Leadership in Technology" Speaker Series.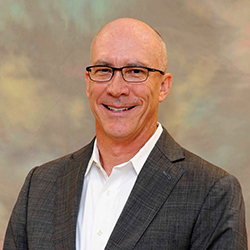 Our special guest speaker will be Chris Stanley, Vice President of Clinical and Digital Solutions at Labcorp. Stanley's topic will be "Advancing Health with Advanced Technology: Understanding the Impact of Patient- and Provider-Centered Design and Innovation."
Stanley is a results-driven, enthusiastic executive known for driving global business development, product management and delivery excellence for high-tech solutions and services. He has a unique ability to lead highly complex businesses and teams by strongly leveraging his collaborative style, analytical thinking, and a rare combination of strong technical comprehension coupled with sound business acumen. He is consistently recognized by his managers, peers and employees as a versatile leader, inspirational coach and mentor who is deeply skilled in developing others and motivating high performance teams to go beyond.
Stanley has a rich leadership background fueled by 28+ progressive years leading multiple functional areas including business development, product management, software engineering and large-scale program management. His experience is truly global with successful business growth demonstrated in South America, Europe and Asia. Currently, he serves as VP, Clinical and Digital Solutions at Labcorp. Previously, he served as VP, Analytics Development at Allscripts. Prior to Allscripts, he served as VP, Customer Experience Management Marketing at JDSU.
In previous leadership roles at Nortel, Stanley consistently delivered superior results. As the Release Team Leader for Carrier Voice over IP (CVoIP), his project team delivered multiple software releases on schedule and with added capability that contributed to 40% revenue growth over two years. In addition, while leading the CVoIP Business Development team, he developed new business opportunities domestically and internationally, resulting in tripling revenue and a number one market share position. He has been consistently recognized as a top performer throughout his career, yet maintains a balanced view that puts the welfare of the company and others ahead of his own. He truly enjoys seeing his teams realize and achieve what were thought to be impossible goals. He has been commended for the infectious nature of his strong and open communications style and unquestionable integrity.

Stanley received his Bachelor of Science in Electrical Engineering from NC State where he concentrated in Communications and graduated Summa Cum Laude. He has also received numerous awards while working at Allscripts, JDSU and Nortel.
Abstract: Healthcare and clinical research are complex ecosystems. Keeping patients and providers at the center of design and innovation is essential to improving patient care. We have a call to action to leverage advanced technology to improve patient health, engage providers with better, faster information, and enhance operational efficiencies within the healthcare continuum. Lessons learned from the recent pandemic will have a permanent, meaningful impact on patients and providers. Chris Stanley, Vice President of Clinical and Digital Solutions at Labcorp, will discuss how Labcorp uses our digital portfolio to advance health and empower our customers to make confident healthcare decisions
The talk is free and open to the public. Ample free parking (after 5 p.m.) is available in the deck on Partners Way on Centennial Campus. (directions and map)
Masks are required for the 'in person' talk. Consult University COVID guidelines for the current directives. We are working with NC State WolfBytes Video Production Services to live-stream the talks for those who feel uncomfortable attending in person. The link to the live-stream will be posted here when available. As always, talks will be videotaped and made available (pending speaker approval) on a dedicated YouTube channel.

These lectures have been approved by the CSC Graduate Oversight Committee to count toward the required lectures for graduate students.
For more information about the Labcorp Speaker Series and upcoming lectures, visit: https://www.csc.ncsu.edu/corporate_relations/speaker-series.php
~coates~
Return To News Homepage