CSC News
July 29, 2021
Educational Psychology Alumna Jessica Vandenberg (PhD 2021) Named 2021 Computing Innovation Fellow
Reah Moore | College of Education News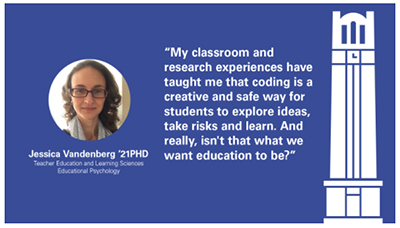 NC State College of Education alumna Jessica Vandenberg '21PHD has been selected as a 2021 Computing Innovation Fellow, a postdoctoral research program in computing.
The Computing Innovation Fellowship program sponsors two-year postdoctoral research opportunities in computing, while offering career development and cohort building activities in an effort "to provide a career-enhancing bridge experience for recent Ph.D. graduates."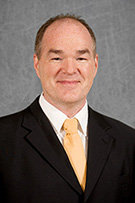 As a fellow, Vandenberg, who graduated from the NC State College of Education's Teacher Education and Learning Sciences educational psychology program area of study in May, will be working with Bradford Mott, Ph.D., a senior research scientist in the Center for Educational Informatics and an adjunct assistant professor in the Department of Computer Science.
"I am in complete shock. This is the second year I applied for this funding and I always felt I was a long shot due to working in computer science education and having a Ph.D. in education. From perusing the backgrounds of those in my 2021 cohort and those in previous cohorts, computer science education projects are not frequently funded and the overwhelming majority of recipients have Ph.D.s in computer science," Vandenberg said. "Dr. Brad Mott, my mentor on this project, and I have beat many odds, it seems."
Ever since Vandenberg entered her doctoral program, she has planned on becoming a research scientist. Since January of 2018, she has served as a research fellow at the Friday Institute for Educational Innovation, where she has worked under the guidance of Eric Wiebe, Ph.D., a professor in the Department of Science, Technology, Engineering, and Mathematics Education and a senior research fellow at the Friday Institute.
"I am most looking forward to taking the classroom and research experiences gained under the guidance of Dr. Eric Wiebe from the last three-and-a-half years and expanding upon them," she said. "This experience, working around a group of such researchers, will benefit me in many ways. I anticipate I will gain from them further refinement of study design and analysis techniques, additional experience with grant writing and overall project management skills."
While at the Friday Institute, Vandenberg worked on the Fostering Collaborative Computer Science Learning with Intelligent Virtual Companions for Upper Elementary Students (FLECKS) project, a multidisciplinary project that sought to foster collaboration and programming skills in upper elementary students by developing a digital learning environment that uses virtual learning companions. During that time, she worked with over a dozen North Carolina and Florida teachers and gathered input from fourth and fifth grade students about what they knew and what perspectives they had about programming, which ultimately helped to develop a set of curricula for teachers to use when teaching block-based programming.
Having been a classroom teacher for 11 years, teaching all subjects from kindergarten to sixth grade and working with academically or intellectually gifted students, Vandenberg's research areas of interest revolve around upper elementary student experiences in computer science.
"One of those years, I designed a quarter unit of study around philosophy. It was a slippery slope that took us from rhetoric and argumentation to logic to symbolic logic to coding. That was in the early days, both of my teaching career and of programs like Scratch," Vandenberg said. "Since then, my classroom and research experiences have taught me that coding is a creative and safe way for students to explore ideas, take risks and learn. And really, isn't that what we want education to be?"
The Computing Research Association (CRA) and the Computing Community Consortium (CCC), with support from the National Science Foundation (NSF), announced funding this spring for a cohort of Computing Innovation Fellows (CIFellows) for 2021. The cohort, which includes 69 researchers from 49 universities, is 52% women. Covering a broad range of topics, the researchers will begin their fellowships at 48 different universities throughout the country.
Vandenberg is looking to build off of her experiences as a research fellow at the Friday Institute as a part of this fellowship. Her goal is to develop a "narrative-centered learning environment that features block-based programming that will be enhanced to incorporate custom artificial intelligence (AI) blocks.
"We hope that upper elementary students can develop confidence to work with AI technologies, but also to understand the core AI concepts and ethics associated with such practices. Additionally, we intend to do some instrument development and validation work around students' perspectives and understanding of AI," she said.
~moore~
Return To News Homepage