CSC News
May 12, 2021
Meet Neill Robson – Application Developer, Software Engineer and 2x College of Engineering Graduate
Monica Smith | Entrepreneurship News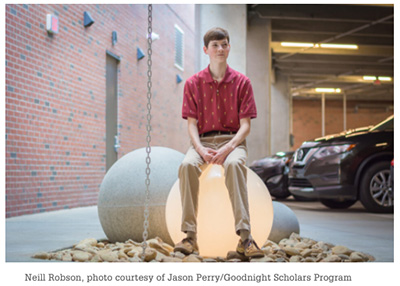 Neill Robson is a curious and determined application developer and software engineer. Fascinated by technologies that minimize the gap between the developer and the end-user, he strives to transform impersonal computer behaviors into accessible, emotional experiences for the consumer. Neill will be able to put his engineering skills and knowledge to practice at his upcoming role as an associate software engineer at Pendo.
Neill will soon be graduating with a Master of Computer Science from NC State after also having earned a B.S. in Computer Science from NC State in May of 2020. Neill reflects on his time at NC State and how it's given him the tools he needs in order to succeed in life after college.
Besides thriving as an engineering student, Neill was also heavily involved in the entrepreneurial ecosystem at NC State. Having lived 5 years at the Albright Entrepreneurs Village, a living and learning community for student entrepreneurs, Neill had the opportunity to tour startup businesses in both Silicon Valley and New York City, as well as work with fellow alum Nick Sischo on prototypes for his business, Trashr. Neill also worked as the Entrepreneurship Garage's graduate assistant, overseeing the prototyping lab's equipment and mentoring students interested in using the many tools the Garage offers.
During his undergraduate time at NC State, Neill spent 6 weeks studying abroad in Hangzhou, China and also served as a senior Goodnight Scholar mentor, introducing incoming college freshmen to NC State University and the Goodnight Scholars program. "Through these experiences, NC State has taught me how to bring my full self to the table when serving others. Intellect is important, but I've also grown a lot in terms of empathy and creativity–owing in great part to these opportunities given during my time here," Neill shared.
Below is a Q&A with Neill Robson.
What are your plans after graduation?
I'm joining the excellent team at Pendo as an associate software engineer, helping businesses understand their customers and improve user experience within their software!
What is your favorite thing about the NC State Entrepreneurship community?
The breadth and depth of passions within the students, staff, and faculty. I'm always learning or discovering something new when interacting with folks in the program. The community is a beautiful reflection of how entrepreneurial thinking can enrich all areas of life, from technology to the arts, to physical, mental, and social health.
What is your advice to those looking to explore entrepreneurship?
Don't be concerned about not having a "business plan" or "profitable" idea when getting started. Start by creating: building a prototype that you believe could improve your life or the community's well-being. Economics are important, but that knowledge is readily available: ideas and creativity are the scarcest resources and most valuable contribution you can provide!
What are you most proud of achieving during your time at State?
Over spring break in 2020, I led a group of peers on a trip to the Appalachia Service Project in rural Virginia to serve the community through housing repairs and renovations. The trip was a culmination of several months doing both logistical planning and team building to form a well-equipped and passionate group. We were able to insulate an elderly woman's mobile home to keep AC/heating costs down through the different seasons. Although this activity may not seem directly related to my academic/professional pursuits as a computer scientist, I cherished this experience as a unique and wonderful blessing. There will be many times in the future to develop exciting software tools or applications, but leading this service trip was truly a once-in-a-lifetime experience.
Anything else you want to add?
My sincerest gratitude goes out to the entire NC State Entrepreneurship staff, who have tirelessly and passionately created a world of opportunities for us students and coached us toward making our communities a better place.
On behalf of NC State, we wish Neill a successful future, full of innovation and problem-solving!
Feel free to connect with Neill Robson via LinkedIn.
~smith~
Return To News Homepage