CSC News
May 19, 2021
Congratulations Spring 2021 CSC Graduates!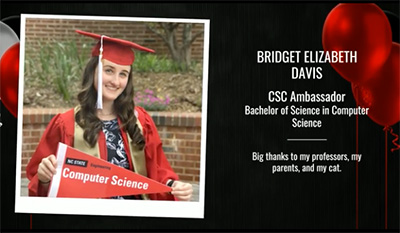 Congratulations to the Computer Science graduates who were honored during the virtual Spring 2021 Diploma Ceremony on May 13th. The Department had hoped to be in a position by this spring to invite all graduates, their friends and family, and our faculty and staff to campus to officially celebrate this milestone. Unfortunately, that was not possible since COVID-19 is still active worldwide.
Instead, we partnered with StageClip so that all graduates could be honored as individuals, and be part of a special communal experience on-line as we celebrated and recognized their unique place in the history of the CSC Department. You can view the entire ceremony and find individual student clips by visiting https://ncsucs.stageclip.com/.
The Spring 2021 undergraduate class included three Park Scholars: Benjamin Gray, Nikhil Milind, and Ana Sofia Mendez Uzsoy; and 22 students with a perfect 4.0 GPA: Christopher George Blackey, Samuel C. Blair, Jonathan Robert Fisher, Patrick Freeman Girard, Varsha Gopal, Luke Peter Gostling, Mark Walter Klose, Zachery Thomas Lacer, Clara Eleanor McGirt, Nikhil Milind, Jake Bennett Nowokunski, John Preston, Jacob Stephens Salzberg, Neetya Rohit Shah, Connor Thomas Szurgot, Zachary Alexander Taylor, Jason Tola, Alexander Tyner, Ana Sofia Mendez Uzsoy, Alexander John Youngblood, Eric Louis Zendels, and Yulin Zhang.
The graduating class also included nine Computer Science Honors Program participants: John Agner, Elizabeth Ann Kaplan, Austin Clarke Lalicker, Kathering Windsor Marsh, Joseph Nathaniel Rusche, Junhua Su, Zachary Alexander Taylor, Ana Sofia Mendez Usroy, and Yulin Zhang; 18 University Scholars Program participants: Tushar Arora, Christopher George Blackey, Liah Nikol Carpenter, Dean Julian Domingo, David Andrew Fine, Elizabeth Ann Kaplan, Mark Walter Klose, Katherine Windsor Marsh, Anna Mattapallil, Jacob Andrew Matteson, Amanda Elizabeth McBryde, Craig Daniel Messina, Mustafa Tariq Sayeed, Mathew Lewis Schmithorst, Avani Ketan Shah, Neetya Rohit Shah, Zachary Alexander Taylor, and Chenyu Wang; three University Honors Program participants: Varsha Gopal, Samuel Essex Haubold, and Bryce A. Junkins; three Engineering Honors Program participants: Nikhil Milind, Zachary Alexander Taylor, and Eric Louis Zendels; and numerous members of a variety of scholastic honor societies.
The Computer Science Outstanding Seniors for Spring 2021are Christopher George Blackey (Senior Award for Citizenship and Service), Rebeca Sarai Teran (Senior Award for Humanities), Mark Walter Klose (Senior Award for Scholarly Achievement), and Nikhil Milind (Senior Award for Leadership).
The CSC Diploma Ceremony featured two student speakers, both an undergraduate and graduate student.
The graduate speaker was Dr. Sean Mealin, the first blind PhD graduate from the NC State Computer Science Department, and currently a software developer at SAS. In his remarks, Mealin reminded the graduates that while they were students at NC State, what they learned outside of the classroom was just as important as what they learned inside the classroom, "from learning to walk the tightrope that is work-life balance, to finding our place within a group so that we can work together, to taking on additional responsibilities, such as internships and research… the skills that we have learned will serve us well in whatever comes next." He went on to say, "It's important for us to remember and acknowledge the support we've received over the years from our families, the professors and staff of this department, and most importantly, each other." He concluded his remarks saying that "Wherever your path takes you, know that you have the knowledge and skills to succeed. Remember to learn from those who have something to teach, and to teach those who have something to learn."
The undergraduate speaker was Mark Klose. Klose is the Department's Senior Scholar for Scholarly Achievement, a double major in the Science, Technology and Science program, and a Benjamin Franklin Scholar. In his remarks, he encouraged his fellow graduates to "Find what drives you. My parents raised the nihilist in me that is screaming 'these job opportunities are not going to be here forever', but you know what will be? Your attitude and your actions. Learn to be comfortable with yourself and be empathetic to others." He encouraged the graduates to "Do more… strive for something that is one percent better, helping someone feel one percent more comfortable each day." Finally, he encouraged the graduates to "Be honest with yourself and others. Don't like something? Find out why. Make a wrong career choice? Cool! Just about every other field needs people with our skill sets." He concluded by saying, "Make sure to allocate time to truly appreciate what you've achieved. Take time to reflect, reset, and thank those who impacted you the most"
We were honored to have computer science alumna Dr. Bushra Anjum provide the keynote address. Anjum, who was recognized with an inaugural NC State Computer Science Outstanding Young Alumni Award in 2017, is a 2012 PhD graduate who was advised by Dr. Harry Perros. She is a health IT specialist currently working as the Data Analytics Manager at a San Francisco startup, Doximity. Prior to Doximity, Anjum worked for Amazon as a software engineer, architecting large-scale distributed services supporting Prime Membership, with particular emphasis on performance and scalability.
In her remarks, Anjum told the graduates that when she thinks of this class, she thinks of the word fortitude. "This class graduated in the middle of a global pandemic. A lot of ambiguity and uncertainty has been thrown in your faces in the last year and a half – not the ambiguity and uncertainty of whether or not you will catch a virus, or how the job market will shape up. It's not knowing when, or if, you will be seeing your loved ones again. It does not get more intense than this," said Anjum.
Anjum's first piece of advice was to consider career moves not as a ladder with only two directions (up or down), but as a jungle gym that allows for movement up, down and sideways. She advised the graduates to "Be flexible in your career decisions. Do not compare your journey with others, and if you can, be a little adventurous. See where it takes you."
Anjum's second piece of advice was to "Embrace the power of 'and'...yes the simple three-letter word" She told the graduates they don't need to negate parts of their personality in order to be perceived as competent. The use of the word 'but' imposes a choice and creates division, while 'and' creates togetherness. She told the grads, "'And' begs raptor, while 'but' creates friction and division." She challenged the graduates to "Be the 'and' maker."
She added that we have always been proud of our graduates, and we are equally proud of this year's class, "but we have this intense feeling of respect for you - respect for your journey, respect for your experiences, respect for your fortitude."
Our special thanks go to the Computer Science Department ePartners Program, its participating corporate sponsors, and the NC State Engineering Foundation for their generous sponsorship of this ceremony.
Congratulations to all of our Spring 2021 Computer Science graduates!
~coates~
Return To News Homepage