CSC News
May 11, 2021
First Blind PhD Student Graduates from the Department of Computer Science
Rachel Young | College of Engineering News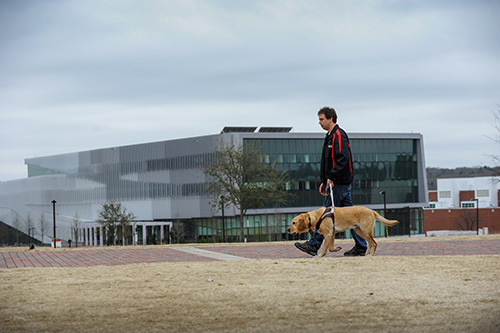 When Sean Mealin receives his PhD from NC State's Department of Computer Science (CSC) in May, his research partner will be right by his side. Of course, when you're a Labrador retriever, where else would you want to be?
Mealin, who is the first blind PhD student to graduate from the department, found inspiration for his research from his guide dog, Simba, who he received between his undergraduate and graduate studies at NC State. He hopes his research, which is focused on using computers to enhance communication between humans and dogs, will help service dog training programs become more efficient.
Originally from Canada, Mealin and his family moved to Greensboro in the 1990s. Mealin's high school enjoyment of building and taking things apart sparked an interest in engineering, which led him to NC State's College of Engineering in 2009.
While he initially thought he'd switch from computer science to psychology, Mealin got hooked on research. As an undergraduate student, he worked with Dr. Suzanne Balik, CSC teaching assistant professor, to develop a publicly accessible tool that helps blind people work with graphs or node-link diagrams, a common structure in computer science that is often inaccessible to people with visual impairments.
"I realized that I really enjoyed research and finding questions that people might not have thought of before or…just never had the motivation or ability to move forward with and solve," he said.
After graduating summa cum laude in 2013, Mealin joined the Canine Instruction with Instrumented Gadgets Administering Rewards (CIIGAR) lab led by Dr. David Roberts, an associate professor of computer science who is also interested in dog training and agility.
Mealin embarked on an independent study focused on using technology to better train and evaluate guide dogs. His research so far has been successful, and in 2014, he received a National Science Foundation Graduate Research Fellowship for his work.
"It's not too far from robotics, except that all the hard problems are taken care of. If you tell a dog to go through an environment, the dog will automatically path-find, the dog will preserve its own safety, the dog will do all of these things that are still outstanding problems in the world of robotics," he explained.
Mealin and Roberts formed a partnership with Guiding Eyes for the Blind in New York, one of 11 accredited schools in the U.S. for training guide dogs. Guiding Eyes restructured some of its early training programs to incorporate Mealin's technology and hardware to start collecting data on puppies.
"We focused on how we can use computers and data collected by a custom system that we built to better evaluate guide dogs at seven-and-a-half weeks old and see if they're likely to successfully make it through the program," Mealin said. "Will this dog one day be a good guide dog or it is not likely to succeed?"
It's a difficult question to answer. Of the dogs in program, 62.5 percent failed. It costs $50,000 to train a guide dog, so early evaluation of a guide dog's likely completion of the program could save the school considerable resources.
The project has involved collaboration with the College of Veterinary Medicine and the Department of Electrical and Computer Engineering, as well as with IBM, which allowed Mealin to use IBM Watson to run his analysis.
"One of the standout things I really enjoyed was the collaboration," he said. "We were basically coming up with how to collect data on these dogs that are seven-and-a-half weeks old…how do we get a computer small enough to put on them to detect their heart rate, their movement, and where they are?"
When asked what he found the most challenging, Mealin cited the technical content and diagrams that are so prevalent in engineering courses and often not crafted with consideration for accessibility.
"I always had professors who would work with me and find alternative ways for me to perform assignments or tasks," he said. "But having to invent the tools that I use to try and learn the material and keep up with the rest of the class, there's a bit of a bootstrap paradox going on."
Mealin has carried his knowledge gained at NC State beyond the academic world. After two years interning at SAS Institute in Cary, he joined the company as a full-time software developer. He'll also be continuing his game-changing work on service dogs, staying on with the lab to continue research and mentor incoming PhD students.
And in his free time? Applying machine learning to brewing beer. "The idea of bringing technology and beer together sounds fun."
~young~
Return To News Homepage