CSC News
March 21, 2005
Pizza Across America: A new kind of "Google Search"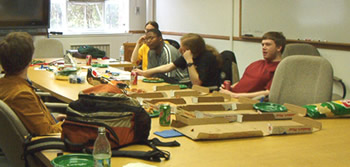 The term "Google search" has taken on a whole new meaning, as the search engine giant has focused its attention on finding the best and brightest computer science talent here at NC State University. And their innovative search program, called Pizza Across America, offers students a chance to take a break from studies to socialize and eat pizza while learning more about career opportunities with Google.
Pizza Across America came to NC State when Google representatives touring the NC State campus after an Association for Computing Machinery (ACM) presentation on September 22 were impressed with what they saw. A Google representative then contacted Computer Science seniors Travis Cornwell and Neha Jain and asked them to serve as student representatives for the nascent Pizza Across America campaign. Travis is an ACM contact for Google and targets 400 and 500-level search technology courses. Neha is one of Google's Anita Borg scholarship recipients and works with interest groups such as student organizations on campus.
The pizza parties are usually held every other week and provide students an opportunity to relax from their studies in a casual environment. Google is expanding rapidly and wants to pique students' interests in their company. Replications of ID badges for Google Labs are handed out at the parties, with a question on the back that a student might be asked at an interview. These questions are atypical of standard interview questions. Google is looking not only for students with technical knowledge; they are interested in students who can think outside the box. There is a lot of opportunity in the search technology business and a lot of information that people don't know what to do with yet.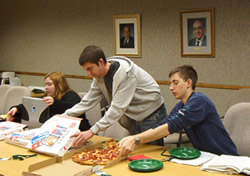 Pizza Across America has been a success at NC State. According to Travis Cornwell, "There have been many positive responses from students. They're very interested in Google and dream of working there for their first job. The Pizza Across America program is very unique in that it allows Google's presence to be felt more frequently on campus while supporting hard-working Computer Science students."
As an example of how often Google interacts with NC State, here are several upcoming Google events that may interest students:
Tuesday, March 22, there is a pizza party for Dr. Doyle's Automated Learning and Data Analysis (CSC 422/522) class.
Wednesday, March 23, 5:30pm, there is an informational session for students at
The Doubletree Guest Suites Raleigh/Durham
North Carolina Room, 1st Floor
2515 Meridian Parkway
Durham NC
Thursday and Friday, March 24 and 25, Google will be conducting interviews for software engineer positions (for more information, contact Travis Cornwell at twcornwe@ncsu.edu).
- by Irena Rindos (edited by Ken Tate & Fay Ward).
Return To News Homepage