CSC News
April 02, 2021
CSC Student Awarded the Churchill Scholarship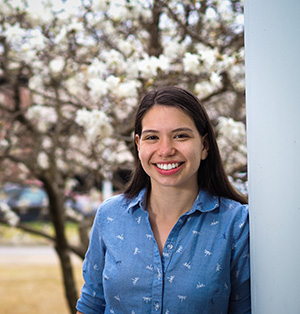 Ana Sofia Uzsoy, a Computer Science student and Park Scholar at NC State, was recently awarded the prestigious Churchill Scholarship for the 2021-2022 academic year. She is NC State's third-ever Churchill Scholar.
Uzsoy was one of 17 recipients of the Churchill Scholarship selected from an incredibly competitive applicant pool. This year, there were 125 nominations from over 80 different institutions across the country, which are some of the highest numbers that the scholarship program has ever seen.
The Churchill Scholarship program was established in 1963 as part of the founding of Churchill College. It was established in fulfillment of Sir Winston Churchill's vision of deepening the United States-United Kingdom partnership to advance science and technology in both countries. Churchill College was established in 1960 as a predominantly science and technology college and the National and Commonwealth memorial to Sir Winston Churchill.
Winners of this scholarship are selected based on criteria of outstanding academic achievement, proven talent in research, and outstanding personal qualities. This program provides full funding to students from America to pursue a one-year Master's degree at the University of Cambridge, based at Churchill College in the United Kingdom. The scholarship is valued at around $60,000 and covers full tuition, travel costs, and includes a stipend.
Uzsoy plans to pursue an MPhil in Machine Learning and Machine Intelligence during her time at the University of Cambridge.
Currently, Uzsoy is a senior double majoring in Physics and Computer Science with minors in Math and Oboe Performance. She is also a Park Scholar, a College of Sciences Ambassador and the President of Women in Physics. Before the pandemic, she played with the NCSU Woodwind Quintet and even had the chance to open for the NC Symphony and play at the Gregg Museum located in Raleigh. Additionally, Uzsoy is heavily invested in research. She is currently working with Dr. Mary Elting of the NC State Physics department on creating computational tools to automatically track yeast cells as they divide. She is also working on another project with a professor at the University of Chicago studying exoplanets, which are planets that orbit stars other than the Sun. Lastly, Uzsoy has interned with NASA and Google and was a 2019 recipient of the Goldwater Scholarship.
The Churchill Scholarship experience provides unique opportunities for students to focus on independent STEM research and provides students with a rich environment to aid with personal and intellectual growth during their year abroad. Churchill Scholars are high-achieving, innovative students with a deep passion for STEM subjects and research. Former scholars include nine Nobel Prize winners and other notable individuals.
Uzsoy is excited and grateful for this upcoming experience, "I am so incredibly honored to receive a Churchill Scholarship. When I was applying, I never thought I would actually get it - I was so shocked when I got the email! I'm very excited to move to the UK and start my studies at Cambridge...I think you can learn a lot from being in new environments, so I'm excited about the opportunity to experience a different country and meet people from all over the world while learning and doing research in an exciting field."
She is also very thankful for those who have supported her along the way, "I am so grateful to all of my faculty mentors, the Fellowships Office, both the Computer Science and Physics departments, the Counseling Center, my friends and family, and everyone who has supported me throughout the process of applying to the Churchill Scholarship program, and just over the course of my four years at NC State. Many people have invested significant amounts of their time into helping me succeed, and I don't think I can accurately express how much I appreciate it."
As a Churchill Scholar, Uzsoy will join an impressive group of innovative and creative researchers and leaders. We are so proud of her, and we wish her the best of luck. Congratulations Ana Sofia!
~snyder~
Return To News Homepage