CSC News
January 26, 2021
NC State Ranks in Top 10 for Online Master's Engineering Programs
Rachel Young | College of Engineering News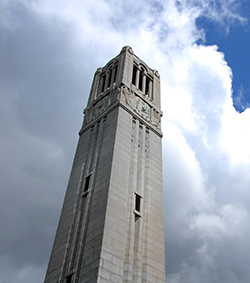 North Carolina State University was recognized as one of the top 10 online engineering master's programs in the nation for the past several years in a row. According to the US News & World Report 2021 list of Best Online Programs, NC State's Engineering Online ranked sixth nationally.
The Engineering Online master's program also landed in the top 10 for Best Online Graduate Engineering Programs for Veterans, coming in at seventh nationally. In rankings of online engineering specialties, the College of Engineering landed fourth for its mechanical engineering program. The College also ranked 11th in civil engineering, 11th in industrial, 13th in electrical, and 15th in engineering management.
NC State ranked 15th on the list of Best Online Master's Computer Information Technology Programs.
"Part of our success in being ranked in the top 10 online engineering programs for the past several years is our focus on student services," says Dr. Linda Krute, director of distance engineering education programs. "We have faculty who are dedicated to working with our distance students and we provide the services they need to be successful. We've been working with adult learners for several years and our faculty value the input and contributions they can make to their classes."
Engineering Online offers 17 different graduate engineering degree programs that are the same high-quality engineering and computer science degree programs offered on campus, but with the flexibility of online learning to help meet students' educational and professional goals.
"We've been able to develop a reputation of providing quality educational experiences for our distance students," Krute adds. "The College of Engineering is dedicated to providing lifelong learning experiences for our alumni and professional engineers."
The US News rankings look at metrics including faculty credentials and training, services and technologies made available to students, student excellence and how engaged faculty members are.
~young~
Return To News Homepage