CSC News
January 13, 2021
Williams Named 2020 ACM Fellow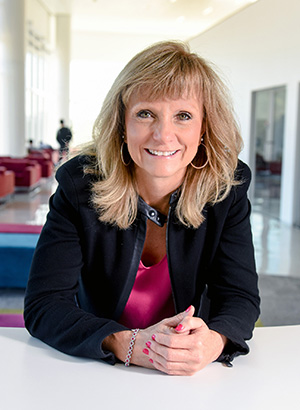 Dr. Laurie Williams, Distinguished University Professor, was recently named a 2020 Association for Computing Machinery (ACM) Fellow for her contributions to empirical research on agile software development, software security, and software engineering education. She is the second ACM Fellow in the Computer Science Department at NC State, joining Dr. Frank Mueller who became a Fellow in 2018.
In 2020, ACM named 95 members Fellows for wide-ranging and fundamental contributions in areas including artificial intelligence, cloud computing, computer graphics, computational biology, data science, human-computer interaction, software engineering, theoretical computer science, and virtual reality, among other areas. The accomplishments of the 2020 ACM Fellow have driven innovations that ushered in significant improvements across many areas of technology, industry, and personal life.
The ACM Fellows program recognizes the top 1% of ACM Members for their outstanding accomplishments in computing and information technology and/or outstanding service to ACM and the larger computing community. Fellows are nominated by their peers, with nominations reviewed by a distinguished selection committee.

"This year our task in selecting the 2020 Fellows was a little more challenging, as we had a record number of nominations from around the world," explained ACM President Gabriele Kotsis. "The 2020 ACM Fellows have demonstrated excellence across many disciplines of computing. These men and women have made pivotal contributions to technologies that are transforming whole industries, as well as our personal lives. We fully expect that these new ACM Fellows will continue in the vanguard in their respective fields."
Underscoring ACM's global reach, the 2020 Fellows represent universities, corporations and research centers in Australia, Austria, Canada, China, Germany, Israel, Japan, The Netherlands, South Korea, Spain, Sweden, Switzerland, Taiwan, the United Kingdom, and the United States.
The contributions of the 2020 Fellows run the gamut of the computing field?including algorithms, networks, computer architecture, robotics, distributed systems, software development, wireless systems, and web science--to name a few.
Williams is co-director of the NC State Science of Security Lablet, and she is the Chief Cybersecurity Technologist of the SecureAmerica Institute. At NC State she leads the Software Engineering Realsearch research group.
In addition to being named ACM Fellow, Williams has received numerous awards and recognitions, including being named an NC State Distinguished University Professor in 2020. In 2018, she was named an NC State Distinguished Professor of Computer Science and an IEEE Fellow. She received an NC State Alumni Association Outstanding Research Award in 2016, and was named to the NC State Research Leadership Academy, also in 2016. Additionally, she was named an IEEE Senior Member in 2015, an NC State Faculty Scholar in 2013, and an ACM Distinguished Scientist in 2011. In 2009 she won the ACM Special Interest Group on Software Engineering (SIGSOFT) Influential Educator Award, and in 2004 she won a National Science Foundation (NSF) Faculty Early Career Development Award (CAREER) Award.
Williams joined the NC State faculty in 2000. In addition to teaching responsibilities, Williams has served in several leadership roles in the department including acting department head from 2014-2015; associate department head from 2015-2016; and interim department head from 2017-2018. She received her BS in Industrial Engineering from Lehigh University in 1984, her MBA from Duke University in 1990, and her PhD in computer science from the University of Utah in 2000. She worked for IBM Corporation in various technical and managerial capacities for nine years before returning to academia.
Additional information about the 2020 ACM Fellows, as well as previously named ACM Fellows, is available through the ACM Fellows site.
~###~
(Editor's note: Dr. Nachiappan Nagappan, a two-time graduate of the Computer Science Department (MSCN 2002, PhD 2005) was also named a 2020 ACM Fellow, and was advised by Williams while at NC State. Nagappan, formerly a Partner Researcher at Microsoft Research, was recognized as an ACM Fellow for his contributions to empirical software engineering and data-driven software development. He was inducted into the NC State Computer Science Alumni Hall of Fame in 2020.)
Return To News Homepage