CSC News
January 07, 2021
Williams Named Distinguished University Professor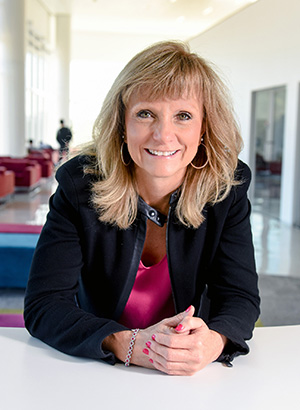 Congratulations to Dr. Laurie Williams on being named a Distinguished University Professor in the Department of Computer Science at NC State University. Williams is co-director of the NC State Science of Security Lablet, and she is the Chief Cybersecurity Technologist of the SecureAmerica Institute. She also leads the Software Engineering Realsearch research group at NC State.
Williams' research focuses on software security; agile software development practices and processes, including continuous deployment; and software reliability, software testing and analysis. Her research has emphasized the importance of having practical relevance in software security and software engineering research and providing research solutions to solve the problems faced in day-to-day software development. With her students in the Software Engineering Realsearch group, she has been involved in working collaboratively with high tech industries like ABB Corporation, Cisco, IBM Corporation, Merck, Microsoft, Nortel Networks, Red Hat, Sabre Airline Solutions, SAS, Tekelec, and healthcare IT organizations and on open source software. The Realsearch team works on research activities ranging from security issues in healthcare IT applications to software process to applying failure-prediction in-process and vulnerability-prediction in-process during development to impact programmer productivity and ensure the development of high quality, reliable, and secure applications. Her influence on the development of vulnerability prediction models was recognized in 2020 by an Institute of Electrical and Electronics Engineers (IEEE) International Conference on Software Testing (ICST) Test of Time award for her 2010 paper with Microsoft. The research collaborations have resulted in significant publications in the primary conferences in her research area maintaining a balance between research and practice in software security and software engineering. Williams has more than 240 refereed publications.
Williams is one of the foremost researchers in the security of healthcare IT applications and of agile software development. Her work has had wide ranging impact on the research community ranging from the collection of empirical evidence on agile software development to the evaluation of specific practices in isolation to gauge their efficacy to be adapted in different contexts. She is the main author of the book Pair Programming Illuminated and a co-author of Extreme Programming Perspectives both published by Addison-Wesley. In January 2009, her 2000 IEEE Software paper "Strengthening the Case for Pair Programming" was chosen as an IEEE Software 25th Anniversary Top Pick Paper, and was on the list of the Most Cited IEEE Software Articles for a 25-year period, and was chosen by the Association for Computing Machinery's Special Interest Group on Computer Science Education as the #2 SIGCSE Top Ten Symposium Papers of All Time.
Williams is strongly committed to software engineering and security education though her mix of teaching, professional and research activities. She redesigned the software engineering course at NC State to include an innovative laboratory component that enhances communication, coordination skills and provides practical software development team experience to students. She has designed two new graduate level courses on Software Reliability and Testing and on Software Security at NC State. Her involvement in education research activities has included her role as lead investigator in National Science Foundation grants to improve the retention of women and minorities in computer science using various educational practices like agile software development and pair programming.
Throughout her career she has received may accolades and awards including:
National Science Foundation (NSF) Faculty Early Career Development Award (CAREER Award) (2004)

Association for Computing Machinery (ACM) Special Interest Group on Software Engineering (SIGSOFT) Influential Educator Award (2009)

ACM Distinguished Scientist (2011)

NC State University Faculty Scholar (2013)

Institute of Electrical and Electronics Engineers (IEEE) Senior Member (2015)

NC State Research Leadership Academy (2016)

NC State Alumni Association Outstanding Research Award (2016)

IEEE Fellow (2018)

NC State Distinguished Professor of Computer Science (2018)
Williams joined the NC State faculty in 2000. In addition to teaching responsibilities, Williams has served in several leadership roles in the department including acting department head from 2014-2015; associate department head from 2015-2016; and interim department head from 2017-2018. She received her BS in Industrial Engineering from Lehigh University in 1984, her MBA from Duke University in 1990, and her PhD in computer science from the University of Utah in 2000. She worked for IBM Corporation in various technical and managerial capacities for nine years before returning to academia.
Williams becomes the fifth Distinguished Professor in the NC State Department of Computer Science, joining Drs. Donald Bitzer, Jon Doyle, James Lester, and Mladen Vouk.
~coates~
Return To News Homepage