CSC News
December 15, 2020
The Legend of the Silver Bullet Award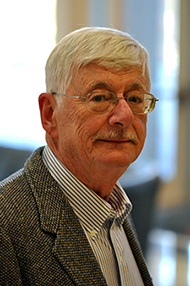 Stories of the legendary 'silver bullet' award have circulated within the walls of the Computer Science Department at NC State University for many years. But like bigfoot, leprechauns, and other mythical creatures, we have been left to wonder if the legend was real. Until now!
Is there really such a thing as a 'silver bullet' award? Retired professor and department icon, Dr. Tom Honeycutt says, "Yes! I created it!" For decades, he has very quietly recognized a variety of individuals with this unique symbol of his ultimate respect.
Honeycutt says he wanted to find a special way to personally recognize exceptional students, alumni and colleagues, so he commissioned a local jeweler (Traditional Jewelers) to create the custom 'silver bullet' jewelry piece almost three decades ago. The mold sits patiently until he orders up a new 'silver bullet', finely crafted as a unique symbol of excellence.
Why a 'silver bullet'? Honeycutt says it is partly a tip of the hat to the Lone Ranger (who he called the 'Long Ranger' as a small boy), who used silver bullets as his calling card and a symbol of justice. And silver bullets are thought to fly straighter and are more accurate. Honeycutt also points to the fact that the 'silver bullet' idiom refers to something that provides an immediate solution to an extremely difficult problem. But the concept for the award was inspired by a software engineering paper entitled "No Silver Bullet – Essence and Accident in Software Engineering" written by Turing Award winner, Dr. Fred Brooks. In the paper, Brooks argues that all software development is made up of essential and accidental tasks, with most of the huge productivity gains coming from the removal of artificial barriers that have made accidental tasks inordinately difficult. He argues more focus should be placed on essential tasks, and identifying and developing the great conceptual designers of the future.
According to Honeycutt, he holds a very high standard to those chosen as recipients. "The Silver Bullet Award is only given to those who exemplify acuity for quality management in their personal lives," says Honeycutt. The standard is captured in a quote by influential British-American architect and design theorist, Christopher Alexander.
"There is a central Quality which is the root of life and spirit in a man, a town, a building, or a wilderness. This quality is objective and precise, but it cannot be named. The search which we make for this Quality, in our own lives is the central search for any person, and the crux of any individual person's story."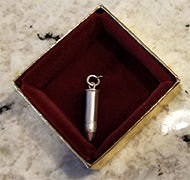 How many Silver Bullet awards has he given out? "So far, I have given out 21!", says Honeycutt, who pays for the awards out of his own pocket. The initial award was given in the mid-90s and it cost approximately $50 to craft, while the most recent ones have run in excess of $200 each.
Joyce Hatch, now retired Director of Undergraduate Advising for the department, was the very first recipient of a 'silver bullet'. This department icon is widely revered for having taken in well over 30 computer science students over the years to live with her and her husband, when they had nowhere else to go. For so many of them, her act of compassion was a lifeline that allowed them to graduate and avoid a life of certain hardship. She remains as humbled by the award today as when it was given to her over 25 years ago. "Tom Honeycutt gave me the undergraduate academic advising job, which was truly the best job I ever had," says Hatch. "He always had my back. He's still one of my best friends after all these years. We talk by phone several times a week. I am truly honored that I was the first silver bullet recipient."
Not all the winners are from the department of computer science. John Baines, Assistant Director, Security & Compliance Unit, with NC State's Office of IT, was #5 on the list of 'silver bullet' recipients. Baines recalls, "We were working as a team, together with a couple of others associated with NC State University. Our impetus came from an effort to convert Tom's Knowledge Information Management (KIM) concepts into a commercial venture. Tom awarded my silver bullet for contributions to this project. I wrote a chapter for Tom's KEO book about the validity of KIM in these times of exponential changes. This was about the time of the Dot-Com Bubble Burst! Although that crisis should have given more credence to the use of KIM in business, the resulting stock market crash left us all breathless. I still believe in the validity of Tom's approach to KIM. I was surprised, but gratified by my Silver Bullet Award."
#11 on the list is Dr. Beatrice Le Pechoux, who is touched and honored to this day for the recognition. She was given a 'silver bullet' after working with Dr. Honeycutt on his KEO book, during a period that was almost a blur as she was also working diligently on her PhD. She recalls countless early morning conversations over coffee at the Cup A Joe's on Hillsborough Street. Le Pechoux says, "I remember conversations with Tom were always fascinating, unpredictable and fun. He was able to get a lot out of us, in a good way. He certainly knows how to fan the flames of creativity through dialog and exchange of ideas. I always was drawn to his free and inquisitive spirit, along with his good humor and kindness. Always a smile on his face!"

Former student and recipient #14, Kanchana Padmanabhan says, "Dr. Tom loves out of the box thinking and encourages students to find their own way to interpret things. He is also always kind and helpful to everyone. For me getting an award from him meant that I had in some way checked one or more of these boxes. That made me feel happy back then when I received it and it still is a prized possession."
Other known recipients of the award include Rebecca Soper, Dr. Bill Waters, Doug Champion, Marshall Brain, Tommy Vitolo, Brian Patrick Donovan, Gary Williams, Jesse Johnson, Jim Bender, Tony Barr, Paul Bigelow, Myra Frank, Dr. Moncef Slaoui and Robert Benjamin.
Will he continue the tradition, now that he is retired? "Absolutely!," Honeycutt says. "When I see a deserving person, I will recognize them." In fact, he recently notified Ken Tate, the department's director of engagement & external relations (and author of this story), that he would be receiving 'silver bullet' #19. "Ken, you have earned it! Your efforts for CSC are well beyond all expectations, and you did it all with a clear heart. You are the invisible hand that made our department shine with honesty and integrity beyond the call of duty without personal gain."
Tate says, "I am sure that I speak for every recipient of a 'silver bullet' award when I say I am truly humbled and honored to be recognized by Dr. Honeycutt, an admired and beloved department icon."
So, the hunt for bigfoot, leprechauns, and fire-breathing dragons may continue, but we now know that the legend of the 'Silver Bullet' award is true! Congratulations to all the known recipients and a special thank you to Dr. Tom Honeycutt for his efforts to quietly and selflessly recognize excellence in this world.
~tate~
Return To News Homepage