CSC News
December 14, 2020
CSC Graduate Awarded Marshall Scholarship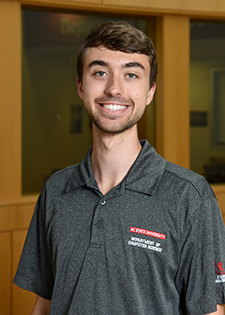 Colton Botta, a 2019 B.S. graduate of the NC State Computer Science Department, was recently awarded the 2021 Marshall Scholarship.
Botta was one of only 46 winners selected from an applicant pool of over 1,190 to receive this scholarship. Founded in 1953, the Marshall Scholarship Program began as a gesture of gratitude for the assistance provided by the United States to the UK under the Marshall Plan. Since its founding, there have been over 2,100 scholarships awarded. Former Marshall Scholars include Academy Award nominees, Pulitzer Prize winners, Supreme Court justices, a Nobel laureate, and a NASA astronaut.
This renowned program is funded by the British Government and allows American students to pursue graduate study of their academic subject of choice at a top university in the UK for up to three years. Winners are selected based on criteria of academic merit, leadership potential, and ambassadorial potential.
Botta plans to pursue a Master's in Cognitive Science at the University of Edinburgh in Fall 2021, then pursue a Master's in Education and Technology at the University College London in Fall 2022.
Botta majored in Computer Science with a minor in Business Entrepreneurship at NC State, where he was involved in the University Honors Program, Undergraduate Research, the Computer Science Student Ambassadors program, and graduated as a class Valedictorian. He is credited as the second author of the paper, entitled "Here We Go Again: Why Is It Difficult for Developers to Learn Another Programming Language?" that was published at the 2020 International Conference on Software Engineering. Botta also spent four semesters as a Teaching Assistant in the Computer Science Department, which sparked his passion for education and a lifelong love of teaching. After his time in the UK, he plans to pursue a Ph.D. in Computer Science Education before seeking a faculty role at a research institution.
Dame Karen Pierce, British Ambassador to the United States said the class of 2021 Marshall Scholars is "one of the most diverse and inclusive in the programme's history". Additionally, Christopher Fisher, Chair of the Marshall Commission, said this class consists of "scholars continuing to search for a better understanding of today's world and how best to meet tomorrow's challenges".
"I am going to use the Marshall Scholarship to push the boundaries of what technology can do for education", says Botta. "I will examine two key areas: how students learn and how technology can model, influence, and even supplement this learning process. My dream is to lead a research group that investigates how artificial intelligence can individualize how we learn, allowing every student to learn in a way that suits their own needs."
As a Marshall Scholar, Botta will join a group of world-changers ready to take on the most difficult issues we face today. We are so proud of him, and we wish him the best of luck. Congratulations Colton!
~snyder~
Return To News Homepage