CSC News
December 04, 2020
Congratulations 2020 CSC Graduates!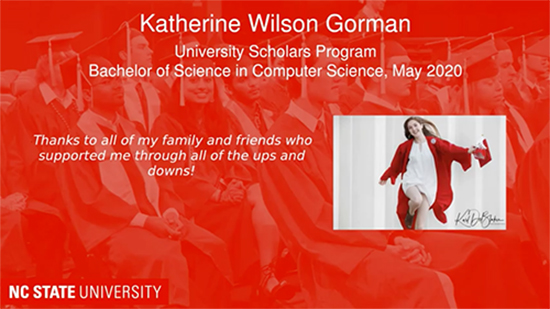 Congratulations to the more than 500 Computer Science graduates who were honored during the virtual 2020 Diploma Ceremony on December 5th. We celebrated graduates from spring, summer and fall 2020. The Department had hoped to be in a position this fall to invite all graduates, their friends and family, and our faculty and staff to campus to officially celebrate this milestone. Unfortunately, that was not possible since COVID-19 is still active and surging worldwide.
Instead, we partnered with StageClip so that all graduates could be honored as individuals, and be part of a special communal experience on-line as we celebrated and recognized their unique place in the history of the CSC Department. You can view the entire ceremony by clicking on this link.
The 2020 undergraduate class included four Park Scholars: Bryan Gongora Cooper, Neil Dey, Anna Paige Owens and Jonathan D. Schertz; and 31 students with a perfect 4.0 GPA: Sanjna Toral Amin, Brian David Beam, Aidan William Beggs, Noah Benveniste, Chin Chau, Ali Muhammad Chaudhry, Wei Chen Chu, Neil Dey, Samuel Fields, Benjamin Jared Fisher, Courtney Kai Gordon, Katherine Wilson Gorman, Kevin J. Haas, Xiaoqian He, Seth Robert Hollandsworth, Emily Irene Jasienowski, Steven Jones, Sarah Michelle Korkes, Jack Mitchell MacDonald, Troy Marchesseault, Luke Mendenhall, Yosuke Mitzutani, Jimmy Nguyen, Aaron Paul Ott, Zhehao Peng, Neill Leonard Robson, Jonathan D. Schertz, Sam M. Weninger, Jonathan G. Williams, Hongjian Yang, and Ja Qi Ye.
The graduating class also included 29 Computer Science Honors Program participants: Kyle Joseph Brown, Alexander A. Chtcheprov, Joshua Luis Cowles, Alay H. Deliwala, Neil Dey, Domenick Nicholas DiBiase, Iain Graeme Dixon, Matthew G. Dzwonczyk, Oliver Reid Fowler, Steven Tyler Green, Dylan Tyler Jordan, Carl Anthony Klier, Sarah Michelle Korkes, Tyler Shane Kropiewnicki, Sichen Liu, Atharva Mahajan, Richard Thelis Lewis Marshall, Matthew Renhard McLaurin, Yosuke Mizutani, Aleksandr Nahapetyan, Anna Paige Owens, Jeremy Issac Park, William Michael Rabb, Sanjana Prakash Rao, Nathan Seamon, Lauren Cordelia Siegel, John Cotton Watson, Hongjian Yang, and Gabriel Finnr Zingle; 14 University Scholars Program participants: Ali Muhammad Chaudhr, Benjamin Jared Fisher, Katherine Wilson Gorman, Colin Michael Foley, Joseph Osteen Greene, Seth Robert Hollandsworth, Jharett Kross Lofton, Christian Morris, Aaron Paul Ott, Shukri Christopher Qubain, Kylan Schatz, Kevin Tran, Maya Umehara, and Connor Jackson Woodall; 10 University Honors Program participants: Claire Katherine Brown, Ali Muhammad Chaudhry, Anna Leeza Chernikov, Jash Prem Gulabrai, Sonali Karmalkar, Nikhil Kaul, Valeri Ivanov Kozarev, John Brady Kurtz, Chandra Priyadarshni Manivannan, and Richard Wynne Plaga; and numerous members of a variety of scholastic honor societies.
The 2020 CSC Diploma Ceremony featured two undergraduate student speakers. Darius McFarland, a Spring 2020 CSC graduate, was the first speaker. During his time at NC State, McFarland served as president of the National Society of Black Engineers, and as a coordinator for the NC State START Program, a program that helps incoming minority freshmen transition from high school into college. In his remarks, McFarland wanted to highlight just how beneficial a computer science degree can be after graduation. A computer science degree gives graduates "a great foundation and it gives you all the skills you need to learn any new programming language or framework." He went on to say "We have the ability to solve very complex problems and we also have the skills to take a complex problem and break it down into smaller pieces so we can solve it more easily... Having this skill makes you adaptable, and adaptability is very important."
The second student speaker was Anna Owens, a Fall 2020 graduate who was a Park Scholar, and served as the president of Women in Computer Science (WiCS). In her remarks, Owens said, "The pandemic has taught us, especially those working in the tech industry, that work from home can be reasonable and productive. So, lucky for us, we might not have to move away from friends and family next year." She added, "Now more than ever we can feel fortunate that we've chosen a career path that offers some stability in uncertain times." She ended her remarks saying, "I don't have to talk about how we're going to handle the real world, because our definition of the real world is changing, and I'm not sure that any of us know how we're going to handle it anymore."
We were honored to have computer science alumnus Dr. Nachi Nagappan provide the keynote address. Nagappan is a Partner Researcher at Microsoft Research, and a two-time graduate of the NC State Computer Science Department (MSCN 2002, PhD 2005), where he was advised by Dr. Laurie Williams. His work has had a foundational impact on software engineering practice by investigating many important beliefs about software engineering that used to have little to no empirical evidence. His research results have impacted the broader software engineering industry as well as several product divisions within Microsoft about building and shipping software. In recognition of his many professional accomplishments, Nagappan was inducted into the NC State Computer Science Alumni Hall of Fame in November 2020.
In his remarks Nagappan told the graduates "We belong to a really privileged group of people. Even during the time of this pandemic, computer science graduates are in tremendous demand. In fact, we are one of the selected few careers where people can still work at their full potential, even while being remote, or working from home. We should be extremely thankful to be in such a fortunate place."
He went on to share eight important things that he's learned throughout his career or by observing others:
1 – Work for happiness. Enjoy the work you do. If you do not, no amount of money will make you feel better in the end.
2 – Now is a good time to think about risk vs. reward. Take risks. Preferably calculated risks early in your career. There is no shame in failure.
3 – Explore the world. Spend time, at least a short period of time, living in another part of the world. It greatly helps broaden the cultural experience, as especially in computer science, most companies are global, and there is more than a fair chance that as soon as you start, you'll be working with teams outside of the US.
4 – Embrace Diversity. Value and respect diversity. It is great to learn from others whose thoughts and viewpoints might be very different from yours.
5 – Work in a respectful environment. If not, not matter how good the pay, it will always in the end create an unhappy, unpleasant situation.
6 – Don't get too comfortable in a job doing the same thing again and again. In computer science especially, always look to expand your horizons and skill sets.
7 – Don't be shy or scared to network. Leverage the amazing online network at NC State. A lot of things happen because of one's own personal network. It's a small world. It pays to build and maintain a network.
8 – Never hesitate to say "thank you" and "I'm sorry". As you progress in your careers, you will meet nice people and not so nice people. Remember and cherish the nice people, and learn from the not so nice people what not to do.
He concluded his remarks by encouraging the graduates to "Take life with it's surprises. Keep in touch with the faulty here at State. Have fun, Enjoy life. Stay safe and healthy."
Our special thanks go to the Computer Science Department ePartners Program, its participating corporate sponsors, and the NC State Engineering Foundation for their generous sponsorship of this ceremony.
Congratulations to all of our 2020 CSC graduates!
~coates~
Return To News Homepage