CSC News
November 18, 2020
Department Icon, Douglas Reeves to Retire After Three Decades of Service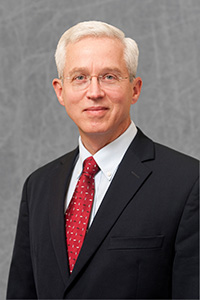 Dr. Douglas Reeves, Associate Dean and Professor of Computer Science and Electrical and Computer Engineering, has announced his retirement at the end of the year. Reeves joined the faculty at NC State after receiving his Ph.D. in computer science from Pennsylvania State University in 1987.
Over the decades, Reeves solidified his position as a department icon, where he is known not only for his brilliant research in the areas of architecture and operating systems, cybersecurity, and networking, but for his approachability as a professor and his leadership within the department during a period of tremendous growth and change.
At NC State, Reeves has served in a variety of leadership positions. From May 2010 to December 2013, he served as director of graduate programs in the Department of Computer Science, during which graduate enrollment grew significantly, reaching more than 600 students, including 180 Ph.D. students.
In 2013, Reeves was appointed as assistant dean and promoted in 2015 as associate dean for graduate programs in the College of Engineering in 2015, working with graduate programs across the College of Engineering, while still serving the department as a faculty member. During this period, the College of Engineering's academic departments recruited a record number of top graduate students with the highest levels of support from the College and the Office of the Provost.
During his career at NC State, Reeves has supervised the theses of 20 Ph.D. students and more than 20 master's students. He and his students have published more than 100 papers focusing on very-large-scale-integration (VLSI) design of integrated circuits, computer networking and computer and network security, and parallel and distributed computing. Additionally, he has received funding for his research from the Army Research Office, the National Science Foundation, the Advanced Research Development Activity, theAir Force Office of Scientific Research, the Defense Advanced Research Projects Agency, and other sources.
Reeves also played an instrumental role in helping create and launch the department's Cybersecurity Initiative.
"Dr. Reeves has been a driving force behind the Cybersecurity Initiative, including the creation of the concentration and the NSF CyberCorps(R) Scholarship for Service award," says Dr. Sarah Heckman, Alumni Distinguished Undergraduate Professor and Director of Undergraduate Programs for the Department of Computer Science. "The Department of Computer Science has benefited and grown because of his mentoring, support, and guidance during his time at NC State."
Dr. William Enck, Associate Professor of Computer Science and co-director of the Secure Computing Institute, recounts Reeves' mentorship, leadership, and service. "Doug has devoted many years to mentoring the security faculty and acting as an advocate for cybersecurity research and education within the department and college. Throughout my time at NC State, Doug has continually offered sage advice, frequently asking questions that led to 'aha!' moments. He will be greatly missed and we will continually strive to achieve the vision he has helped define."
"I am truly grateful to Doug for the help he has given me in my new position as a Department Head for Computer Science. His advice has helped me substantially, and his leadership among our faculty has been exemplary," says Dr. Gregg Rothermel, Professor and Computer Science Department Head.
In addition to his many leadership roles, Reeves is also the recipient of numerous awards. His many honors include receiving the General Electric Doctoral Fellowship in 1985 and the Undergraduate Teaching Award from the Department of Computer Science at NC State in 1988. In 2003, he was named the Professional Engineer of the Year by the Department of Computer Engineering and Computer Science in the Speed Scientific School at the University of Louisville, where he received his M.S. degree. Reeves received the NC State Libraries Faculty Award in 2011 and was recognized with the Most Receptive Graduate Professor Outside of the Classroom Award in 2017.

Please join us in extending our sincere gratitude and appreciation to Dr. Douglas Reeves for his outstanding contributions and dedicated service to the Department of Computer Science at NC State University!
~snyder~
Return To News Homepage