CSC News
November 09, 2020
Rouskas and Enck Named October 2020 Carla Savage Award Winners
Congratulations to Dr. George Rouskas, professor and Director of Graduate Programs, and Dr. William Enck, associate professor, in the NC State Computer Science Department, on being named the October 2020 winners of "The Carla Savage Awards."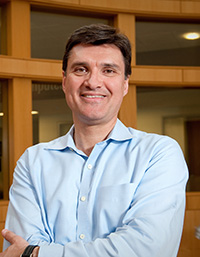 Dr. George Rouskas, who was recognized for his funding record and his collegial and even-tempered approach to all his work, is the recipient of many awards and recognitions, including the Institute of Electrical and Electronics Engineers (IEEE) ONTC Outstanding Service Award in 2019. He was named an NC State Alumni Association Distinguished Graduate Professor in 2018, and he is also a member of the NC State Academy of Outstanding Teachers. In 2012 he was named an IEEE Fellow, and in 2010 and 2011 he was an IEEE Communications Society Distinguished Lecturer. As of 2020, 25 PhD students and 12 Masters thesis students have graduated under his supervision. Rouskas, whose research interests are in the broad field of computer networking, earned his PhD (1994) and his MS (1991) from the Georgia Institute of Technology, and his BS (1989) from the National Technical University of Athens, Greece.
Per his nomination: "Dr. Rouskas is the most complete faculty member I've had the pleasure to know in our department. "Complete" as in "excellent in all dimensions". His research credentials and reputation and impact are excellent. He's been very active in professional service. He has a very respectable funding record. His skill in mentoring students has been excellent. He is a highly rated instructor, and his course materials are excellent. He has been an excellent DGP. He is collegial and even-tempered in all interactions. The complete "package"!"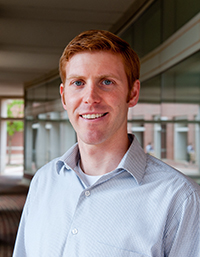 Dr. William Enck is an associate professor in the NC State Computer Science Department where he is co-director of the Secure Computing Institute (SCI) and director of the Wolfpack Security and Privacy Research (WSPR) laboratory. Enck, whose research interests are in cyber security, earned his PhD (2011), MS (2006), and BS (2004) from the Pennsylvania State University. Enck was recognized for his efforts that lead to the highly successful SCI, as well as the more recent Cybersecurity Initiative and Undergraduate Cybersecurity Concentration. He was also praised for his inspiring teaching and lectures.
Per his nomination: "I nominate Dr. Will Enck for his tireless and inspiring leadership (along with Dr. Laurie Williams) in the establishment of the highly successful Secure Computing Institute, and most recently in his efforts to launch the associated Cybersecurity Initiative here at NC State. This includes (but not limited to) work to launch an Undergraduate Cybersecurity Concentration, the completion of a very successful campaign to recruit and hire Dr. Thierry Wandji as our new Director of Cybersecurity Education, launch of recruiting effort to hire a new Director of Cybersecurity Practice, all made possible by successfully securing a substantial unrestricted gift of $250,000 from Cisco to support the initiative. Collectively, these efforts have resulted in NC State's rise in the rankings as a leader in Cybersecurity, as we recently ranked #4 on Cyber Degrees EDU's list of 'Top 50 Colleges for Cyber Security Master's Degrees in the U.S."
A new intra-departmental initiative, The Carla Savage Awards were created by representatives in the Computer Science Department to recognize outstanding achievement and special people within the department, in the spirit of the incomparable department icon Dr. Carla Savage.
Each month nominations for The Carla Savage Awards will focus on one of the following groups: PhD Students, Administrative Staff, Research Professors, Teaching Professors, Assistant Professors, Associate Professors, and Professors. The Savage Awards committee is made up of representatives from the faculty, staff and graduate students. The names of nominators for the awards are kept private, but the nomination text will be public so voters can access this information when voting. Voting is open to everyone in the NC State Computer Science Department. Two awards will be given each month, with a maximum of 14 winners (one person cannot win more than once every six months). No awards will be given in January, June, July, August or December.
Congratulations to the October 2020 Carla Savage Award Winners!
~coates~
Return To News Homepage