CSC News
September 24, 2020
Virtual Career Fairs Usher in a New Era for Student Recruitment
Without question, COVID19 has changed many aspects of our personal and professional lives in dramatic ways. And now that many fears, norms and misconceptions have been shattered, the new normal that we return to in the future may look quite different for many of us.
The process that employers use to identify and recruit talent is no exception.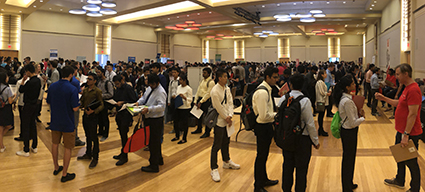 While the traditional student recruitment process has certainly taken advantage of technology enhancements over the years, many employers continued to rely heavily on 'in person' student engagements at career fairs and special recruiting events in order to identify potential candidates to meet their hiring needs. The department's annual ePartners Career Connection event (shown here), is a great example of a traditional job fair with expo-style booths, recruiters, hundreds of students and some very long lines. Plans for this traditional 'in person' recruiting event were in place for September 14 this year.
COVID19 stopped those plans in their tracks!
Despite the initial plans to bring students back on campus this fall, the department made the decision over the summer to shift from an 'in person' career fair to a virtual ePartners Career Connection. In conjunction with several other groups on campus and after a thorough review of options, the decision was made to host all virtual career fairs at NC State on the new Career Fair Plus technology platform.
A total of 29 companies participated in the virtual 2020 ePartners Career Connection event on September 14th, conducting 1,552 interviews during a four hour period. Most employers chose standardized 10 minute interview slots, and students could select open slots with specific recruiters for selective roles, if they met all the applicant requirements. Approximately 700 CSC students participated in the event, filling 75% of the available interview slots.
Feedback from recruiters and students has been overwhelmingly positive.
According to Leslie Rand-Pickett, director of graduate career services for the department and key organizer of the event, companies touted a number of positive aspects related to the virtual event. "Recruiters enjoyed the focus and attention they were able to give students during interviews, something that is very difficult in a loud environment when there are other students packed around waiting their turn," In addition to the obvious benefits of reduced travel expenses, Rand-Pickett said the structure of the event made it easy for more hiring managers to participate, and even pop in and out of the event based on their work schedule, something that is typically not practical during a traditional job fair. "Despite a few firewall and VPN related issues that we quickly worked through," she said, "companies found the technology underlying the event to be easy and intuitive to use." Rand-Pickett added, that most of the companies responding to the survey said they found the virtual events to be every bit as effective as in-person events, and they'd continue to participate in them in the future.
Students were just as complimentary and most strongly preferred the virtual career fair to in-person events.
CSC junior, Manali Shirsekar, noted that the virtual event was far less stressful that the normal career fair. "Last year, I skipped a couple classes to attend, stood in line for at least 3 hours," she said, "and the rooms were incredibly hot, humid, and loud. It was much easier to collect my thoughts and prepare myself to speak with a recruiter at home both physically and mentally."
Drew Hughlett, also a CSC junior, liked the flexibility provided by the virtual format. "More than once, I have had to cut my time short at in-person career fairs because of classes, exams, or assignments," Hughlett said. "With the ability to select 10-minute slots ahead of time, I was able to balance my academic requirements and still be able to meet with the companies that I wanted to."
Will virtual career fairs completely replace traditional in-person events? Time will tell. But based on corporate and student feedback, it is highly likely that virtual career events will become a part of the new normal in a post-COVID world.
~tate~
Return To News Homepage