CSC News
March 02, 2005
Balik and Chandler Awarded Progress Energy Scholarships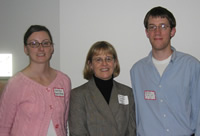 Congratulations to Computer Science students Adam Chandler and Alexander Balik, who were recently awarded the Progress Energy CSC Scholarships for the 2004/05 academic year.
Chandler is a junior from Raleigh, while Balik is a senior from Cary. These scholarships are valued at $2,500 each. A special reception, hosted by Progress Energy leadership, was held in Page Hall on February 22nd to honor all the Progress Energy scholarship recipients from across the College of Engineering.
The Department of Computer Science would like to thank Super ePartner, Progress Energy, for their ongoing support of our students, our department, and our university.
- by Irena Rindos (edited by Ken Tate) -
Return To News Homepage