CSC News
July 24, 2020
Graduate Student Teams Up to Help Create Peer Support Line for Indian Students in the US
Darsee Heath | College of Engineering News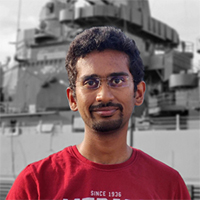 When COVID-19 struck the nation in March 2020, students were faced with new uncertainties and hard decisions. Sathvik Prasad, a Ph.D. student in the Department of Computer Science at NC State, wanted to help his fellow international students. Enter the Embassy of India Student Hub – an initiative to engage Indian students in the U.S. that provides a platform for students to connect, collaborate and converse.
"As a student, I experienced the uncertainty and state of panic among the international student community. During this time of crisis, the leadership team from the India Student Hub came together and built a team of student leaders to help fellow students," said Prasad, who is originally from Mysuru, the cultural capital of Karnataka state in India. "As a student leader, I continue to help the Indian student community in the U.S. during these uncertain times."
The goal of this student-led initiative is to support Indian students in the U.S. with a peer support line that provides accurate and reliable information, aides in finding resources and empowers fellow students to make the best decisions possible. The helpline identifies and connects students with resources at The Embassy of India, the Consulate Generals and the Indian community on a case-by-case basis.
Prasad stays up to date on the latest official government guidelines and as a volunteer for the support line, answers phone calls and responds to emails from students, family members, and others.
"People have questions or concerns about travel, recent policy changes and sometimes they just need a fellow student to talk about their situation. India Student Hub regularly posts student advisories curated towards Indian students in the U.S. As a volunteer, I help interpret the India Student Hub advisories. On a case-by-case basis, I help connect students with the appropriate embassy officials when the query is beyond the scope of the peer support helpline."
As of July, the peer support line has had 11,900+ phone calls, 10,000+ emails/texts and a 97-percent response rate.
"The peer support line is one of many examples of how the student community is stepping up to support others in need. People from all walks of life are impacted by the drastic changes around us. As individuals, we need to support one another during these difficult times to the best of our ability."
Looking ahead into the fall semester, Prasad shares that the team is continuing to monitor the latest guidelines and updating information on its website as it is made available. "By frequently updating our website, we provide valuable information to the student population and continue to be a reliable source of information for the general public during these uncertain times."
Students can contact the peer support helpline via phone or email. For more details on the support line and contact information, visit: https://www.ishubus.com/covid19/peersupport.
~heath~
Return To News Homepage