CSC News
June 08, 2020
Student Becomes Teacher
Suzanne Stanard | NC State News
NC State junior Ryan Catalfu finds a creative way to support families struggling to homeschool during the pandemic.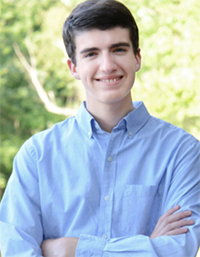 When he received an English assignment to identify a problem that could be solved through written form, NC State computer science major Ryan Catalfu tackled it the best way he knew how: by building a website.
Little did he know that his class project would be broadcast on the local news and, as a result, reach a lot more people than he could have imagined.
"Almost every situation that directly impacts large numbers of people right now involves COVID-19," he says. "I couldn't solve the health issues and felt there were a lot of sites that already offered guidance on symptoms, safety precautions, restrictions, etc."
So Catalfu decided to focus on education. As the son of a former elementary school teacher, he says the decision came naturally. But he also really wanted to find a way to help as many people as possible, especially those suddenly faced with the prospect of homeschooling their children.
Parents, rejoice.
Catalfu's site — Elementary Education at Home — offers resources on everything from stress management to teaching techniques, along with a slew of subject-matter sample activities and educational technology resources. There's even advice on how to establish a new routine and set up your child's workspace.
He designed and built the entire site from scratch, focusing on the most effective and useful ways to present the information — without overwhelming his already overwhelmed audience. Catalfu conducted online research and used a number of other resources to develop the content, including his former teachers, family and personal experience gained in classes and STEM camps.
Nearly 3,000 people have visited the site since its May launch.
"Although I do hope that COVID-19 is not still an issue going forward, I want to continue to help people," Catalfu says. "I am majoring in computer science with minors in environmental science and graphic communications. My goal is to blend my love of technology with my passion for protecting the environment and strengthening education in my future."
~stanard~
Return To News Homepage