CSC News
June 03, 2020
McFarland Recognized With WMEP Shining Star Award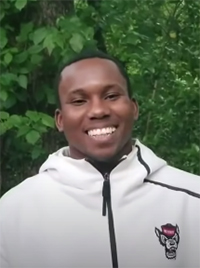 Congratulations to Darius McFarland, a 2020 BS graduate of the NC State Computer Science Department, who was recently presented the College of Engineering's Women and Minority Engineering Programs (WMEP) Shining Star Award. The award was presented during the virtual 2020 Annual Engineering Awards Reception on May 6.
The Shining Star Award is presented to the student(s) who consistently supports the programs hosted by the Women & Minority Engineering Program office. These students willingly and sincerely give their time and energy to support the mission and goals of WMEP. They can be counted on to help out whenever called upon.
McFarland served as the student coordinator for the Student Advancement and Retention Teams (START) Mentoring Program. START is the College's mentoring program for underrepresented minority engineering first-year students. An early intervention and peer-mentoring program, START aims to create useful partnerships among minority engineering students.
In this role, McFarland coordinated monthly activities, reviewed monthly contact reports and served as the mentor to six first-year students. With a team of ~25 fellow engineering students serving as mentors, he maintained consistent contact with peers while actively engaged in his senior year.
In addition to this college level award, McFarland also won two Computer Science Department awards. He received the Computer Science Outstanding Senior Award for Leadership, and was one of four recipients of the Donald Bitzer Creativity Award.
Congratulations, Darius!
~coates~
Return To News Homepage