CSC News
May 19, 2020
Rand-Pickett Named CSC's 2019-20 PEP Award Winner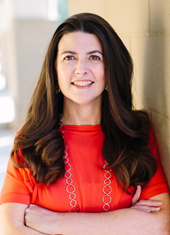 Leslie joined the department in 2016, launching the new CSC Corporate & Career Services suite, providing essential career services programs and unique offerings to our growing graduate program of over 700 students. At the time of its launch, the 700 sf suite, complete with offices and two high-tech interview rooms equipped with HD monitors and connections to support video-based remote interviews, was the first known department-centric career services suite on NC State's campus.
A true 'champion of change', Leslie has identified and leveraged new technologies to provide value-based career services that not only scale to meet the needs of such a large group of constituents, but does so in a highly customized and personal way providing impact for each individual student. She developed the very popular Navigating Networking Event, which offers graduate students an opportunity to gain insights into the proper etiquette for business receptions/networking events, and also how to best leverage these events to expand their network.
Leslie has provided a variety of 'high-tech virtual-high-touch' services that have been especially helpful to students impacted by the COVID-19 related 'shelter-in-place' restrictions. For instance, she has launched a number of very popular virtual workshops for students, such as "How to Succeed in a Remote Work Environment", "Job Searching in a Tough Economy", and "Leveraging LinkedIn & ePACK". Moving to online appointments during the COVID response didn't slow down demand for student career advising. In fact, there was a 34% increase in students served in April 2020 vs. April 2019. Her office tracked more than 2,025 CSC student contacts with CSC Career Services programs and advising during the 2019-20 academic year.
In the spring of 2020, Leslie was recognized as one of the inaugural winners of the Carla Savage Awards, winning the Most Awesome Administrative Person. In her nomination, one student commented recently, "She has been there for me through the career related struggles, achievements and tea time conversations. She makes a great effort to connect with and help the students which is much appreciated. She's awesome!" Another commented, "She is also very optimistic and always ready to help. I remember once, I had an interview scheduled in an hour and the room I had booked in the library did not have mobile signal and she was able to arrange an interview room for me within 15 minutes."
Leslie's impact to the department extends far beyond the duties and responsibilities of her job description. She has become a driving force, co-coordinating the department's presence and participation in the annual Grace Hopper Celebration of Women in Computing conference. She coordinates the department's annual Progressive Undergraduate Recruiting Dinner. And she works closely with the External Relations team to represent the department in discussions with current and prospective corporate partners. She has also become a key resource that the University's Partnership Office has come to rely heavily on as they collaborate with the NC Department of Commerce in activities designed to attract new corporations to North Carolina.
Prior to joining us, Leslie had more than a decade's experience in NC State's Career Development Center in both employer relations and career advising capacities. In the CDC, she consulted with employers to develop strategies for recruiting NC State students for internship, co-op and full-time positions across the university, and managed the ePACK jobs and internships database. Her career advising experience includes six years as a liaison to Engineering students at NC State, and six years working with Nursing and Social Science students at UNC Wilmington.
An eastern North Carolina native and a third generation NC State alum, Leslie has a M.Ed. degree from NC State in Counselor Education, along with degrees from Peace College and UNC Chapel Hill. Her professional and community affiliations include the NC Association of Colleges and Employers (Mentor Program Co-chair, Past President), the Junior League of Raleigh, and the Brooks Elementary PTA (Finance Committee).
For her positive attitude, limitless effort and impact, passion for helping students, and commitment to making this department the best it can possibly be, the department proudly recognizes Leslie Rand-Pickett as our 2019-20 Person of Exceptional Performance Award winner.
~tate~
Return To News Homepage