CSC News
May 07, 2020
College Recognizes Outstanding Seniors
Darsee Heath | College of Engineering News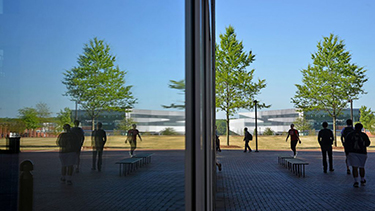 The College of Engineering at North Carolina State University is happy to announce the 2020 Outstanding Senior Awards to four exceptional students in the categories of Citizenship and Service, Humanities, Leadership and Scholarly Achievement.
Academic departments within the College nominated seniors in all four categories. Winners and nominees are traditionally recognized at an annual awards reception, but due to COVID-19 and social distancing guidelines, the event was cancelled and seniors were recognized during a virtual event on May 6.
Senior Award for Citizenship and Service | Lila Crick
Crick is a senior double majoring in aerospace engineering and mathematics. She is an exceptional and passionate student who has dedicated her time to helping end interpersonal violence and support women in STEM. She is fundraising chair for the Society of Women Engineers (SWE), President of The Movement Peer Educators and a University Scholars Program ambassador.
Crick has a passion for creating a supportive environment that promotes equity for women in science, technology, engineering and math fields. As former president of SWE, she planned education events and service projects related to gender equity, raised over $1,500 in scholarships for women in STEM at NC State and led the effort to establish a Corporate Diversity Mixer – where minority students in STEM are able to network with companies in the area in an exclusive space.
As president of the Movement Peer Educators, she leads over 30 peers as they educate their campus community about interpersonal violence prevention and related topics and plans large scale events for awareness months. She has led the effort to collaborate with other student groups on campus including Student Government, Fraternity and Sorority Life, NC State Athletics and allied organizations to ensure interpersonal violence prevention education is a priority to these groups. Further, she has gone above and beyond in creating a partnership between the University Scholars program and The Movement in order to have many of the interpersonal violence prevention workshops the group facilitates listed as scholars forums to increase student participation.
Senior Award for the Humanities | Catherine Wagner
Catherine Wagner is an outstanding senior double majoring in chemical engineering and Spanish language and literature who holds a 4.0 GPA in both. Her contributions to NC State and the community are significant and show her desire to use engineering to solve human problems and the need to understand other cultures effectively to do that.
She currently serves as president of Tau Beta Pi, the engineering honor society, and recently represented the NC State chapter at its national convention. Wagner has been active for five years in Alpha Omega Epsilon Professional Engineering Sorority and is a Benjamin Franklin Scholar. She is active in Catholic Campus Ministry, serving as a Women's Group leader, a member of the fall retreat staff and pianist. Her undergraduate research experience with the Department of Chemical and Biomolecular Engineering professors Dr. Dickey and Dr. Genzer resulted in her being a co-author of a paper published in Smart Materials and Structures.
Through her work as an intern at Merck, Wagner explored the MMR vaccine process. This led her to research the anti-vaccine movement in Latin American countries – which she expanded upon as her Benjamin Franklin Scholars capstone project. As she states, her "humanities background has enabled me to better appreciate the effects of cultural norms and beliefs in making health decisions."
Senior Awards for Leadership | Adithya Balaji
Adithya Balaji is a senior double majoring in electrical engineering and computer engineering who has demonstrated his leadership skills through multiple student organizations and his Think And Do attitude. He is one of the founders of two student organizations: The Liquid Rocketry Lab – NC State's first liquid propulsion laboratory developing a space bound rocket and currently serves as the chief business office – where he brought together over 40 students from different disciplines; and NC State FIRST Alumni Association – North Carolina's first collegiate alumni program for high school robotics participants – where he served as president. He is currently president, chair of the NC State IEEE chapter and previously served as vice president of the Tau Beta Pi NC Alpha Chapter.
During his time at NC State, he has participated in the NC State Entrepreneurship Clinic, where he led a team that tackled a complex employee onboarding process for one of the largest banks in the world. Through that process, he led his team to develop a machine learning model on a target dataset – proving that this model could fast-track the onboarding process for the Fortune 500 bank.
Additionally, he is a part of the NC State Mentors program and was recruited by Dr. Gabriel Orta to lead a team in a new university initiative to partner with companies to spin out new ventures from market needs. Through this project, Balaji is working on an IoT medication-adherence solution putting into practice his entrepreneurial and engineering skills to help those in need.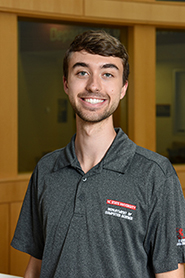 Senior Award for Scholarly Achievement | Colton Botta
Colton Botta is an exemplary December 2019 graduate of the Department of Computer Science who has exceptional academic performance, as is seen in his completion of the University Honors program and Computer Science Honors program. While maintaining his 4.0 GPA, Botta held the position of Computer Science Ambassador, was a member of Tech @ NC State's Executive Board, an active member of the Artificial Intelligence Club and was a member of Phi Kappa fraternity. Additionally, he was published in the IEEE International Conference on Software Engineering.
His research experience involvement spans across the university. With a minor in business entrepreneurship, Botta proved himself as a proactive learner and valuable team player in the Entrepreneurship Clinic. He has worked with Dr. Tim Michaelis on a research project focused on cataloguing all academic work associated with stress and entrepreneurial well-being; participated in REU Site: Science of Software at NC State; and attended the ICSE 19 Student Mentoring Workshop – expanding on his research of investigating learning multiple programming languages and how to teach them more efficiently.
He was a Rhodes Scholarship finalist, Churchill Scholarship finalist and recipient of the Academic Decathlon Scholarship. His achievements are evident in his recognition as valedictorian, dean's list recipient every semester he attended NC State and being named a Computer Science Faculty Senior Scholar.
Other nominees for the awards included:
Senior Award for Citizenship and Service
Jack Woodworth from Biological and Agricultural Engineering

Carly Britt from Biomedical Engineering

Lauren Mathis from Chemical and Biomolecular Engineering

Gracie Hornsby from Civil, Construction, and Environmental Engineering

Neill Robson from Computer Science

Leyla Muse from Electrical and Computer Engineering

Charles Blum from Industrial and Systems Engineering

Mohsen Zakaib from Nuclear Engineering

Rosemary Edberg from Textile Engineering
Senior Award for the Humanities
Layla El-Khoury from Biological and Agricultural Engineering

Cassie Gann from Civil, Construction, and Environmental Engineering

Lauren Siegel from Computer Science

Jack Timothy from Electrical and Computer Engineering

Meredith Rhoney from Industrial and Systems Engineering

Annette Gray from Mechanical and Aerospace Engineering

Ben Hindley from Textile Engineering
Senior Award for Leadership
Mitchell Watkins from Biological and Agricultural Engineering

Danlee Brown from Biomedical Engineering

Jayme Currie from Chemical and Biomolecular Engineering

Adam Schmidt from Civil, Construction, and Environmental Engineering

Darius McFarland from Computer Science

Iman Fisher from Industrial and Systems Engineering

Halen Mattison from Mechanical and Aerospace Engineering

Jonathan Crozier from Nuclear Engineering

Alexandra Obiol from Textile Engineering
Senior Award for Scholarly Achievement
Mallory Alman from Biological and Agricultural Engineering

Chase Binion from Biomedical Engineering

Michael Bowen from Chemical and Biomolecular Engineering

Danielle Curri from Civil, Construction, and Environmental Engineering

Isaac Tolbert from Electrical and Computer Engineering

Lingchao Mao from Industrial and Systems Engineering

Sreevishnu Oruganti from Mechanical and Aerospace Engineering

Vincent Novellino from Nuclear Engineering
~heath~
Return To News Homepage