CSC News
April 17, 2020
HackPack's Capture the Flag 2020 – The Show Must Go On!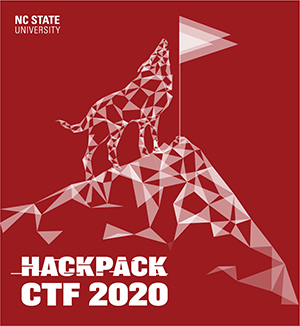 Life during the COVID-19 crisis has proven to be quite hard. It has been difficult to remain optimistic during these troubling times. However, hearing about online events bringing people together such as HackPack's Capture the Flag 2020 is sure to boost spirits! For the next 10 days, over 525 teams from all around the world will be coming together for a friendly, online computer security competition hosted by the NC State student hacking group, HackPack. Their advisor, Dr. Alex Kapravelos, an assistant professor in the department of computer science at NC State, has organized this year's competition, making some alterations to accommodate the current situation.
In previous years, HackPack's Capture the Flag has been a day-long competition requiring students to solve entry-level security challenges. However, this year, the competition's duration has been extended to 10 days from April 17th to April 27th. This ensures that all students have more flexibility so that they may have the opportunity to participate in the competition. Additionally, Kapravelos has integrated HackPack's Capture the Flag competition into his CSC-405 Computer Security and CSC-591 Systems Attacks and Defenses classes. Over 100 of his students who have an interest in computer security will be participating in the competition.
HackPack's Capture the Flag is hosted as a Jeopardy-style competition that includes computer security topics focusing on exploiting a vulnerability by gaining code execution, reversing an algorithm without having access to the source code, web security challenges, and other security-related challenges. These challenges are sure to test the students' knowledge!
This friendly competition, which is sponsored by Cisco, GSK, LexisNexis, Merck, PRA Health Sciences, Secmation, and Truist, is a great example of making the most of a difficult situation. COVID-19 has forced many cancellations and transitions. However, the department of computer science at NC State continues to creatively develop new methods for students to stay engaged and continue their pursuit of knowledge through ways such as hosting an online version of HackPack's annual Capture the Flag competition.
~snyder~
Return To News Homepage