CSC News
April 09, 2020
Creating Hope Amidst Crisis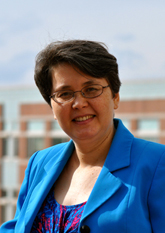 Dr. Nagiza Samatova, a professor in the Department of Computer Science at NC State University, has been using her time to create hope and provide resources amidst the COVID-19 crisis. Specifically, she has been providing online, STEM-focused training for students of all ages free of charge.
With schools in the Triangle area being forced to transition to online teaching on such short notice, Samatova quickly recognized the need for some additional help for students in her local community, "Teaching for the first time is a bit challenging. It's difficult for parents who have never thought about homeschooling their children to be forced to become homeschool parents." Additionally, the situation has raised other issues including that many of these parents also work and may not have time to help their children with their studies or do not have the financial means to afford online courses.
After reading about these struggles that were shared by those in Facebook groups of local communities she is a part of, Samatova decided to offer her help, "I knew I could not go to the hospital and help there, but I knew I had my tool, and that tool is teaching."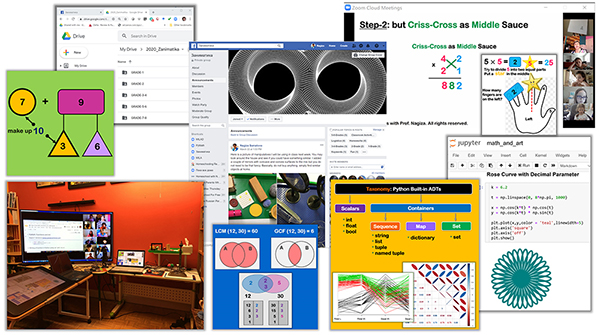 Since then, Samatova has developed online classes for students to join via Zoom. These classes focus on a variety of STEM subjects such as Math Kangaroo and Math Olympiad for elementary and middle school students, and classes focusing on more advanced topics such as Artificial Intelligence and Machine Learning with Python for older students and their parents.
However, these classes are not typical lectures. By using a variety of teaching methods, Samatova has successfully created interactive, engaging, and hands-on classes. Samatova uses camera technology to provide her students with visual demonstrations so that they may better understand the material. For these demonstrations, Samatova uses common, household objects so that students may follow along using their own materials, creating a hands-on experience. Additionally, she uses the break-out room feature on Zoom to allow her students to brainstorm, communicate, and creatively solve problems together. This allows students to stay engaged in class and connect with fellow classmates.
Samatova specially curates each class to ensure that her students are properly learning and retaining the information that is taught. She does this by providing additional resources such as homework assignments and practice problems for students to do outside of class. Another way she ensures the success of her students is by engaging with the parents as well. After 4 weeks of classes, Samatova meets with the parents of the students to discuss how the students are doing, what questions parents may have, and what improvements could be implemented.
Samatova is actively giving back to her community by offering these classes. Her classes are an excellent example of the importance of building the bridge between local schools and the university. While teaching may be a bit difficult at first, Samatova believes that anyone can teach and urges others to get involved to help their community.
Navigating life during COVID-19 is hard. Yet, stories like this surely give us something to smile about and inspire us to give back to our own communities as well. To date, Samatova's online classes have touched the lives of K-12 students and their parents 'sheltering in place' across the Triangle Area and beyond.
~snyder~
Return To News Homepage