CSC News
April 02, 2020
Awesome Service to CSC Recognized with "The Carla Savage Awards"
The NC State Computer Science Department, like many other departments at NC State, has groups of people who accomplish great things. Examples include taking over when others are sick, doing a brilliant job on a large departmental infrastructure project, performing magic with grant paperwork, scoring a new large grant, winning a prestigious award at a conference, or being a great supervisor.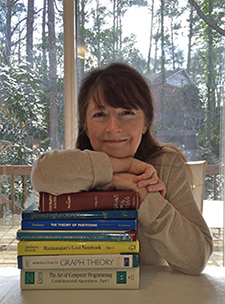 Little was being done to recognize this outstanding service on an ongoing basis. So, representatives in the Department created "The Carla Savage Awards", a new intra-departmental initiative to recognize outstanding achievement and special people within the department, in the spirit of the incomparable department icon Dr. Carla Savage.
Savage, a professor of computer science at NC State, joined the department in 1978. She was recently named a Society for Industrial and Applied Mathematics (SIAM) Fellow, Class of 2019. She was recognized for outstanding research in algorithms of discrete mathematics and in computer science applications, alongside exemplary service to mathematics. And, in 2012, she was named to the inaugural class of Fellows of the American Mathematical Society (AMS). The Fellows of the AMS designation recognizes members who have made outstanding contributions to the creation, exposition, advancement, communication, and utilization of mathematics. In February 2013, Savage was named Secretary of the American Mathematical Society. In the years since the Society was formed in 1888, there have only been nine secretaries; Savage becomes the tenth. Savage entered phased retirement from NC State in 2018-2019.
Each month nominations for The Carla Savage Awards will focus on one of the following groups: PhD Students, Administrative Staff, Research Professors, Teaching Professors, Assistant Professors, Associate Professors, and Professors. The Savage Awards committee is made up of representatives from the faculty, staff and graduate students. The names of nominators for the awards are kept private, but the nomination text will be public so voters can access this information when voting. Voting is open to everyone in the NC State Computer Science Department. Two awards will be given each month, with a maximum of 14 winners (one person cannot win more than once every six months). No awards will be given in January, June, July, August or December.
Congratulations to the March 2020 Inaugural Carla Savage Award Winners!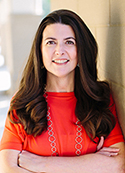 Leslie Rand-Pickett, Director of Graduate Career Services in the NC State Computer Science Department, is the Most Awesome Administrative Person. Per her nomination, "(She) has been there for me through the career related struggles, achievements and tea time conversations. She makes a great effort to connect with and help the students which is much appreciated. She's awesome!"
"She has helped a lot with the internship search. She regularly holds different workshops for us to correct our mistakes like the Career Fair Workshop or Resume Building Workshop. She is also very optimistic and always ready to help. I remember once, I had an interview scheduled in an hour and the room I had booked in the library did not have mobile signal and she was able to arrange an interview room for me within 15 minutes."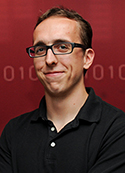 The Most Awesome Award for an Adjunct Professor goes to Dr. Emerson Murphy-Hill , Staff Research Scientist and a member of Google's Engineering Productivity Research Team. Gone, but definitely not forgotten, everyone's favorite adjunct professor is now showing them how to do it at Google.
Congratulations to these inaugural winners of "The Carla Savage Awards!"
~coates~
Return To News Homepage