CSC News
February 28, 2020
Mark Your Calendars for DiamondHacks 2020!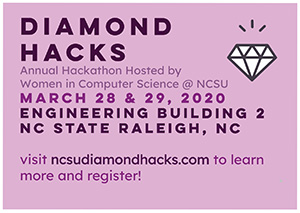 On March 28-29, NC State's Women in Computer Science (WiCS) organization will be hosting our annual hackathon, DiamondHacks! The hackathon will be from 10AM-10PM on Saturday March 28th, and from 10AM-5PM on Sunday March 29th in Engineering Building 2 on NC State University's Centennial Campus.
DiamondHacks is a hackathon geared towards underrepresented genders in tech. What do we mean by that? Our mission to increase women, non-binary, gender fluid and other underrepresented groups in tech. We welcome anyone who supports our mission! We want to create an open and welcoming environment for minorities to come and learn about building awesome software applications. Experienced and first time hackers are welcome! (There will be introductory workshops available for those with little experience.)
DiamondHacks is open to everyone, but you must be a high school or college student to participate. Those who register that are under 18 years old will be sent a form for a guardian to sign. Also, DiamondHacks is completely free for all participants. We provide meals, drinks, and snacks, as well as swag from our sponsors.
You can have teams of up to four people, and we are encouraging people of all genders to attend. Prizes include AirPods, Apple iPads, flight vouchers, and more!
Check out https://www.ncsudiamondhacks.com/ to register and get more information about the event. Please email wics.ncsu@gmail.com with any questions!
~###~
Return To News Homepage