CSC News
February 19, 2020
Rouskas Recognized for Outstanding Service to ONTC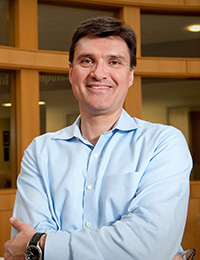 Congratulations to the Dr. George Rouskas, Director of Graduate Programs and Alumni Distinguished Graduate Professor of Computer Science at NC State, on receiving the 2019 Outstanding Service Award from the Optical Networking Committee (ONTC) of the IEEE Communications Society at the 2019 IEEE GLOBECOM conference.
This award recognizes members of the IEEE Communications Society who have a distinguished record of service to the Optical Networking Technical Committee (ONTC), providing exceptional leadership within ONTC, and promoting the ONTC activities and interests in the broader community. Rouskas has been a member of the ONTC for over 20 years serving as secretary from 2012-2013; vice chair from 2014-2015; and chair from 2016-2017.
The Optical Networking Technical Committee serves as the IEEE Communications Society's focal point in the area of optical networking technologies. The technical committee plays an active role in stimulating and organizing leading-edge optical networking symposia, workshops, sessions and tutorials at ICC and Globecom, and in particular serving OFC and other premier M&C venues. ONTC also works with the publication departments of the Communications Society, existing Communications Society technical committees and related societies to organize timely journal and magazine publications, including online publications at the Communications Society portal. The Technical Committee also serves as a proactive facilitator in the dissemination of evolving optical networking standards by working closely with standards forums such as OIF, IETF, and ITU/T1.
For more information on the Award, visit the ONTC site.
~coates~
Return To News Homepage