CSC News
February 19, 2020
Singh Recipient of 2020 ACM/SIGAI Autonomous Agents Research Award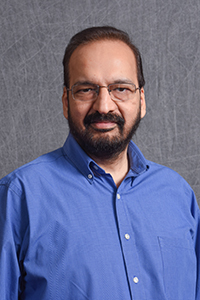 Congratulations to the Dr. Munindar Singh, Alumni Distinguished Graduate Professor of Computer Science at NC State, on receiving the 2020 ACM/SIGAI Autonomous Agents Research Award.
This award acknowledges Singh's extensive contributions to our understanding of social interaction and autonomy in Artificial Intelligence through his seminal work on interaction protocols, norms, and trust in multiagent systems. This work pioneered new approaches to thinking about sociotechnical systems in a formal and verifiable manner. The broad impact of the work has extended far beyond the agent community to encompass concerns in service-oriented computing, software engineering, and distributed computing. In addition, Singh has served the autonomous agents research community in a variety of roles, including as general chair of AAMAS 2005, a charter member of the editorial board of JAAMAS, and an IFAAMAS Board member.
ACM SIGAI, in collaboration with the International Conference on Autonomous Agents, in 2000 instituted this annual award for excellence in research in the area of autonomous agents. The award is intended to recognize researchers in autonomous agents whose current work is an important influence on the field. The award is an official ACM award, funded by an endowment created by ACM SIGAI from the proceeds of previous Autonomous Agents conferences. Prior to 2014, it was known as the ACM/SIGART Autonomous Agents Award.
For more information on the Award, visit the ACM awards site.
~coates~
Return To News Homepage