CSC News
January 23, 2020
$2.75M NSF Award Helps Launch New CyberCorps® Scholarships for Service
Thanks to a $2.75M award from the National Science Foundation (NSF), the Department of Computer Science at NC State University is pleased to announce the launch of five annual CyberCorps® Scholarships for Service, available to undergrad and grad students specializing in cybersecurity.
To be considered, students must be US citizens or permanent residents, and majoring in Computer Science at the bachelors or masters level with a specialization in cybersecurity.
In addition to full tuition, these two-year scholarships provide a generous stipend, health insurance, and an allowance for other professional expenses. In return, the student agrees to work after graduation with a federal, executive-branch government agency for an equal period of time. The program includes mentoring, professional opportunities while in school, and assistance finding internships and post-graduation full-time employment in government.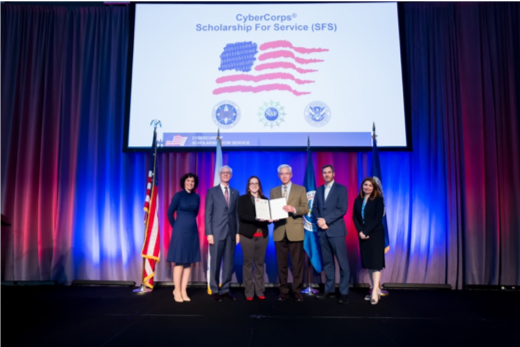 Co-PIs for the award, Drs. Doug Reeves and Sarah Heckman, were on hand in Washington DC in mid-January to be recognized as one of the recipients of the prestigious awards. The current award will cover five students per year and will run through 2024.
Dr. Reeves, Associate Dean & Professor of Computer Science says the NSF's selection of NC State to participate in the CyberCorps® Scholarships for Service program speaks to the significant focus the department has put on building its expertise in cybersecurity education and research.
"At NC State, we are charged with educating the next generation of cybersecurity professionals, a critical need for the State of North Carolina and the nation as a whole," says Reeves. "We now have security tracks available for undergrads and MS students, and we are also in the process of recruiting a Director of Cybersecurity Education, who will help us launch a new cybersecurity concentration, formulate a strong community of practice, engage with industry and government partners and attract, develop and nurture a strong pipeline of security-focused talent," says Reeves. "The availability of these transformative scholarships really speaks to the momentum we are gaining in the cybersecurity space."
Dr. Heckman, Director of Undergraduate Programs, says the new CyberCorps® Scholarships are both substantive and transformative in nature. "They are among the most robust and valuable scholarships currently available at NC State and a great opportunity for those interested in cybersecurity," Heckman says.
The application deadline is March 15, 2020. For more information, and to apply (application open in early February), see https://go.ncsu.edu/sfs
~tate~
Return To News Homepage