CSC News
January 14, 2020
Online Master's Ranked Seventh Nationally
Brent Lancaster | College of Engineering News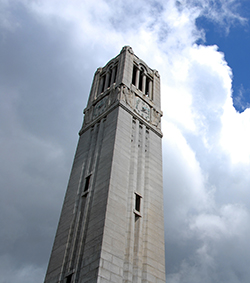 The online engineering master's program offered by North Carolina State University was ranked seventh nationally by US News & World Report in the publication's 2020 list of the Best Online Programs.
NC State's Engineering Online ranked seventh nationally on the list of Best Online Engineering Programs and 15th on the list of Best Computer Information Technology Programs. In rankings of online engineering specialties, the College landed in the top 10 in civil, mechanical, electrical and industrial engineering.
The online graduate engineering program was also ranked sixth on a list of Best Online Graduate Engineering Programs for Veterans.
Established in 1978, Engineering Online is the College's master's degree or professional certificate distance education program. Engineering Online is fully accredited by the Commission on Colleges of the Southern Association of Colleges and Schools, and is authorized in every U.S. state for delivery of online degree programs.
Engineering Online offers 16 different graduate engineering degree programs that are the same high-quality engineering and computer science degree programs offered on campus, but with the flexibility of online learning to help meet students' educational and professional goals.
Though online students are welcome to visit campus during their enrollment, there is never any requirement to do so. All assignments are submitted and returned online, all lectures are available online and all student-faculty and student-student interaction is conducted online. Most of the mid-term and final exams must be administered by a proctor, but proctors are typically available in the student's workplace or community.
The US News rankings look at metrics including faculty credentials and training, services and technologies made available to students, student excellence and how engaged faculty members are.
~lancaster~
Return To News Homepage