CSC News
December 23, 2019
Congratulations CSC Fall 2019 Graduates!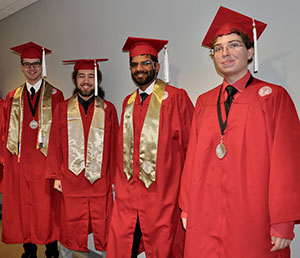 More than 200 Computer Science graduates were honored during the Fall 2019 Diploma Ceremony on December 20 in the James T. Valvano Arena inside NC State's Reynolds Coliseum. Hundreds of friends and family members gathered to celebrate the graduates. This year's graduating class of over 200 students included 22 Ph.D., 129 M.S., and 71 B.S. degree recipients. The top employers of this year's graduates are Amazon, Facebook, Google, and Microsoft.
The undergraduate class included three Park Scholars: Amalan Krishna Iyengar, Shreyas Kuloor and Jasmine Florence Wang; seventeen Valedictorians with a perfect 4.0 GPA: Kevin Mitchel Alvarez, Colton Gregory Botta, Nathaniel Garrett Brooks, Matthew Allen Chafee, Carl Thomas Colglazier, Samuel Austin Ebert, Stuart Andrew Hunt, Forrest Eli Hurley, Amalan Krishna Iyengar, Louis Jacobowitz, Stanton Trygve Parham, Vincent T. Renich, Benjamin Earl Seifert, Isabelle Louise Snyder, Noa Michael Trimble, Jasmine Florence Wang, and Courtney Weglar; nine Computer Science Honors Program participants: Islahuddin Arshad, Soumya Sayam Bagade, Dustin Ryan Hollar, Forrest Eli Hurley, Amalan Krishna Iyengar, Colin Andrew Moore, Jonathan Tyler Rockett, Isabelle Louise Snyder, and Wenting Zheng; four University Scholars Program participants: Stanton Trygve Parham, Jenna Nicole Shockley, Joseph Warren Stanley and Courtney Weglar; eight University Honors Program participants: Soumya Sayam Bagade, Colton Gregory Botta, Carl Colglazier, Stuart Andrew Hunt, Amalan Krishna Iyengar, Louis Jacobowitz, Jonathan Tyler Rockett and Isabelle Louise Snyder; and numerous members of a variety of scholastic honor societies.
This year's fall diploma ceremony featured the first ever undergraduate student speakers to address a Computer Science Diploma Ceremony in 52 years. Louis Jacobowitz, a CSC graduate who was also graduating with a second major in Psychology, was the first student speaker. In his remarks, the self-described "cape guy" said, "We are all graduating. This is a perfect time for every one of us to choose who we want to be, how we want to make ourselves unique, and how to present ourselves to shape other people's impressions of us and to shape our own future growth and development." He added, "Though we might be graduating college, it's never a time to stop learning and growing."
The second student speaker was Colton Botta. Botta, a computer science student ambassador, was also a university finalist for the Rhodes Scholarship. In his remarks, Botta encouraged the graduates to be cognizant of the longevity that the "real world" after graduation carries. In college there was an end in sight, but the real world doesn't have those timely periods of change that students are accustomed to in school. Botta said, "Check your blind spots. Take time to slow down and look around. Evaluate what makes you happy, not rich. What makes an impact on others, not on the bottom line."
We were honored to have Joe Bastante, Chief Technology Officer with Blue Cross Blue Shield of North Carolina, provide the keynote address. Bastante is a technology change leader who has led technology transformation for world-class organizations for more than two decades. In his current role, he has held responsibility for major areas of IT whereby he transforms the organization, gains stability in outcomes, and transitions for longer-term operations.
In his remarks Bastante reminded the students that they passing the torch of past generations who have given so much so this generation can write the next chapter of the human story. He told the students to remember that they matter, and what they do when they leave here matters, too. He pointed out that "the world has been changed by far smaller groups than you all with far less talent than you have."
He encouraged the graduates to "solve beautiful problems." He said, "We tend to go into the workforce or wherever life leads us and look at life in terms of job descriptions, titles, and roles, but remarkable people find those beautiful problems they can put their whole heart and soul into, and they dedicate themselves to that." He added, "So do the job that has been assigned to you, but don't ever bound yourself by job descriptions. Find those things that are worthy of your energy and your talents and pour your heart into it."
He concluded his remarks by encouraging the graduates to "unite brilliant people." He assured them they would find themselves in some sort of conflict with people, be it conflict over the design of systems, or priorities of the company, or where people sit, or even about office thermostats. He added, "What we really need are people who, in the moment of conflict with others, can look at the other person and rise above it. Know that we are all imperfect. Forgive, and find those beautiful problems and rally people together. It's what our nation needs, what our companies need… it's what we all need."
Our special thanks go to the Blue Cross Blue Shield of North Carolina, the Computer Science Department ePartners Program, its participating corporate sponsors, and the NC State Engineering Foundation for their generous sponsorship of this event.
Congratulations CSC Class of 2019!
~coates~
Return To News Homepage