CSC News
November 20, 2019
Senior Design Center's "Posters & Pies" Planned for December 6th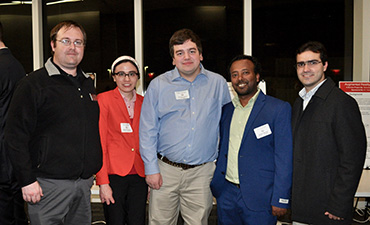 You are cordially invited to the NC State Department of Computer Science Senior Design Center "Posters & Pies" event on Friday, December 6th, from 5:30-8:30 p.m. Each student team will give a brief presentation of their Senior Design project in the James B. Hunt Jr. Library Auditorium on NC State's award-winning Centennial Campus. After the presentations, pizza and dessert pies will be served, and you can enjoy project demonstrations and poster displays in the Hunt Library IEI Duke Energy Hall.
The event is sponsored by Builders Mutual, and Genesys, as well as the Computer Science ePartners Program and the NC State Engineering Foundation.
For directions to the Hunt Library and parking information, please go to: http://www.lib.ncsu.edu/parking
Please note: Parking on campus is free after 5:00 pm on a space-available basis (excluding 24-hour reserved spots). After 5 pm, handicap spaces may be used with any state-issued placard or plate (before 5 pm, NC State-issued handicap permits are required).
This semester, the sponsors and projects are as follows:
Applied Ecology (Sponsored by BB&T):

Pollinator Garden Planner

BlackBerry

:

BlackFish

Deutsche Bank Global Technology

:

OCR Extraction for Pre-Payment Processing

Dell EMC

:

Dynamic Optimizations of Restores from Remote Backups

Siemens Healthineers

:

Custom Dashboard Generator

Advance Auto Parts 1

:

Advance AutoFix

Advance Auto Parts 2

:

In-Store Internet of Things

FREEDM Systems Center

:

Smart Grid Video Game

Industrial and Systems Engineering

:

Resource Allocation Game

LexisNexis

:

Time for Action

PRA Health Sciences

:

PRA Honeypots

SAS

:

SASSY Image Annotation Tool

Bandwidth

:

Real-Time Communication Monitor

Bank of America

:

Detecting Lateral Phishing Attacks

BCBS of NC

:

MindRoom

Burlington Carpet One

:

BCO Installation Scheduler

Cisco

:

What Time Is It?

Fidelity Investments

:

Obelisk – Release Coordination Dashboard

Microsoft

:

SystemVerilog Language Extension for Visual Studio Code

NetApp

:

Logjam.Next
If you plan to attend, please register online at http://go.ncsu.edu/csc-posters-pies by Tuesday, December 3rd, so that we may properly plan for refreshments.
Please come join us! The media is welcome to this event.
Senior Design Center contacts:
Ms. Margaret R. Heil, Director, (919) 515-6020, heil@ncsu.edu
Dr. Jamie Jennings, Technical Advisor, jjennings@ncsu.edu
Dr. Ignacio Domínguez, Technical Advisor ixdoming@ncsu.edu
Dr. Lina Battestilli, Technical Advisor, lbattestilli@ncsu.edu
Mr. Michael DeHaan, Technical Consultant, mpdehaa2@ncsu.edu
Mr. Tanner Verber, tverber@ncsu.edu
Mr. Richard Kaufman, rekaufma@ncsu.edu
Mr. Zachary Cleghern, zbcleghe@ncsu.edu
Media & Corporate Partnership contact:
Ken Tate, (919) 513-4292, kmtate2@ncsu.edu
~coates~
Return To News Homepage