CSC News
November 06, 2019
Tackling Network Design Problems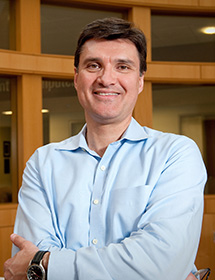 Dr. George Rouskas, Alumni Distinguished Graduate Professor and Director of Graduate Programs in the NC State Computer Science Department, has been awarded $439,148 by the National Science Foundation to support his research proposal entitled "On Parallelizing Optical Network Design Problems: Towards Network Optimization as a Service".
The award will run from October 1, 2019 to September 30, 2022.
Abstract – Planning, deploying, and engineering the networks that make up the Internet infrastructure involves complex problems that we will refer to generically as "network design" problems. Effective and efficient solutions to network design problems are crucial to the operation and economics of the Internet and its ability to support critical and reliable communication services. With this research project we aim to make contributions that will lead to new approaches for tackling network design problems in a scalable manner. In particular, we will develop parallel solutions that are applicable to a wide range of problems by exploiting a feature common to all, namely, that the optimization process incorporates both a routing aspect and a resource allocation aspect.
For more information on Dr. Rouskas, click here .
~snyder~
Return To News Homepage