CSC News
October 24, 2019
Summer Gaming Program Helps Campers Realize Their Potential
Kathleen McBlief | Engineering Communications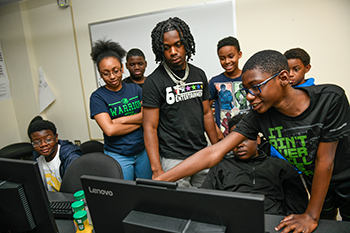 Lead counselor Nasir Jones stands at the front of the class, guiding the campers through coding exercises that are part of SNAP, a visual programming language. Three other counselors move among them answering questions.
The 12 campers are participating in the Bridge to Computing summer camp program for underserved 12- to 15-year-old boys held in the Department of Computer Science (CSC) at NC State.
According to Dr. Tiffany Barnes, a professor in the department who is in charge of the program, the very first camp was held in 2017. She said numerous groups have joined forces to keep this camp viable, including the partnering Raleigh Police Department (RPD) and Ronneil Robinson's Give Back Organization (GBO). Cisco largely funded the program this year.
Lt. Barbara Cojocar is with the RPD's Southeast District and oversees the department's involvement with the camp. She described how the idea for a computer gaming camp came about.
"Knowing that there were underserved children in the district and wanting to make sure they had productive activity during the summer to help them not be recruited into gang activity, we thought, what can we do that would be of interest to them," she said.
She explained that former police sergeant James Kryskowiak and Ronneil Robinson came up with the idea of a computer gaming camp originally called Games Over Gangs. The RPD eventually enlisted NC State as the camp venue.
The first year, RPD officers identified children and talked to parents, transported the children back and forth to camp, mentored them and picked up food for them provided by GBO through donors and volunteers. Now, they are out of the food loop but still select the children, transport them, chat and play football with them. Always they mentor them, focusing on values such as courage, fairness and integrity.
Barnes said that she saw the camp as an opportunity to reach out to children who don't typically think about computing as something they can do.
Growing up in a poor neighborhood, she said, "I always saw education as a way of not being poor… When I took a computer science class in high school, which was required, I was really good at it, and I was like, 'I can do this,' but if I hadn't had that class, I don't know what I would be doing now."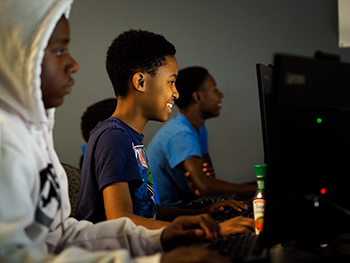 Barnes said that the curriculum has evolved each year to provide the best possible experience for the campers. Barnes also realized that the campers related better to counselors closer in age from similar neighborhoods.
Jones comes from such a neighborhood in Greenville, N.C. Marnie Hill, who taught computer science to Jones at J.H. Rose High School in Greenville and now works for Barnes as the program manager of a workshop for teachers, told Barnes about the great job Jones did in her classes.
Jones worked as a camp counselor last year and is this year's lead counselor. He's in his second year at North Carolina A&T State University (NC A&T) and plans to come to NC State as a graduate student in computer science. He had a large role in making this year's lesson plans and recruited the other counselors.
Two of the three other counselors also attend NC A&T: Kalyn Robertson is a sophomore majoring in supply chain management and Nelson Lee is a junior majoring in psychology. Arquavion Page, also taught by Hill, is now in his first year at Pitt Community College majoring in computer science with a full scholarship. Hill mentored the four counselors.
The three-week camps are made up of a variety of activities from basic typing to leadership activities. The lessons center around computer science, sometimes in the form of games, but there are also field trips, speakers and breaks for football.
The campers build their skills so that by the end of camp they have produced projects with SNAP. They present the projects on the last day to an audience that includes their parents.
The counselors, in addition to keeping the campers on task with their lessons, take advantage of teachable moments.
Lee gave an example. During some free time, the campers were playing a song by YNW Melly called "Mama Cry." Robertson asked how the so-called thug lifestyle appeals to them through music. Some thought it seemed cool because of the money, cars, girls and friends. The counselors asked them to pay attention to lyrics — not just the beat — because they often reveal the harsh reality of the lifestyle.
These camp counselors, RPD officers, Ronneil Robinson, donors, Barnes, Hill and more say they care deeply about the success of this program and are committed to helping these young men realize their full potential.
~mcblief~
Return To News Homepage