CSC News
August 30, 2019
SAS' Schabenberger Kicks Off Fall Fidelity Investments Speaker Series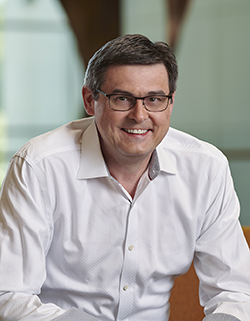 Please join us on October 1st at 6:30 p.m. in room 1231 in Engineering Building 2 for the first talk in the Fall Fidelity Investments "Leadership in Technology" Speakers Series.
Our special guest speaker will be Oliver Schabenberger, EVP, COO & CTO for SAS. Schabenberger's topic will be "The Evolution of Organizations in the Digital Age."
As COO and CTO, Schabenberger sets the technology direction for SAS and executes the company's strategic direction and business priorities. He oversees multiple divisions within SAS, including R&D, Sales, Marketing, Information Technology and Customer Support, as well as divisions focused on solutions for IoT, financial risk management and cloud. Schabenberger joined the SAS R&D Division in 2002 and was named CTO in 2016. Prior to SAS, he served as Associate Professor of Statistics at Virginia Tech, where he earned his PhD in 1995. He frequently writes on emerging technology and holds several patents on software design and algorithms.
Abstract: Digital Transformation is at the forefront of today's organizations and adapting for the future means making changes today. Hear about forces at work pushing organizations out of their comfort zone into a different future.
The event is free and open to the public. Ample free parking is available on Centennial Campus after 5 pm. For directions and more information, click here.
These lectures have been approved by the CSC Graduate Oversight Committee to count toward the required lectures for graduate students.
~coates~
Return To News Homepage