CSC News
May 23, 2019
IBM-NC State Pathfinder Mentoring Program Wins 2018 Volunteer Excellence Award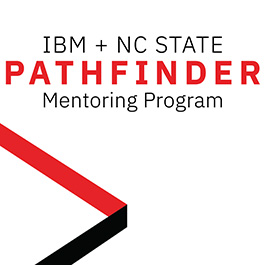 The IBM-NC State Pathfinder Mentoring Program has been awarded a 2018 IBM Volunteer Excellence Award. Presented by IBM Chairman and CEO Ginni Rometty last month, this is the highest form of global volunteer recognition given by IBM to its employees.
For the first time in the Award's history, IBM will contribute a $10,000 grant to each partner organization supported by the award-winning IBM volunteers. These grants are intended to amplify the impact of the IBM volunteer's social responsibility and reflects IBM's commitment to the communities in which it does business.
This year recipients of the IBM Volunteer Excellence Award are from 13 countries including Argentina, Belgium, Brazil, Costa Rica, Hong Kong, India, Indonesia, Japan, Philippines, Spain, Taiwan, United Kingdom, and United States (North Carolina and New York). There were five individual winners and ten winning teams.
Since 2005, the IBM Volunteer Excellence Award has recognized a select number of IBM employees who embody IBM values through their dedication, innovation and personal commitment. This year's winners applied IBM strategic technologies such as Watson, analytics and social media to serve critical community issues and the environment. They created innovative programs to help close gender and skills gaps, and provided immigrant students with role models; they worked with people with disabilities, rural and under-served communities, cancer patients and organizations around the world.
For more information on the IBM Volunteer Excellence Awards and the 2018 winners, click here.
~coates~
Return To News Homepage