CSC News
May 20, 2019
Coates Honored with College's 2019 Award for Excellence
Two outstanding staff members from the NC State Computer Science Department were recognized as nominees for the annual College of Engineering Awards for Excellence at a ceremony held May 9 at the James B. Hunt Jr. Library on NC State's Centennial Campus. Dr. Louis Martin-Vega, Dean of the College of Engineering, presented the awards to nominees Tammy Coates, Assistant Director of External Relations, and Linda Honeycutt, Director of Business Administration, in the Computer Science Department.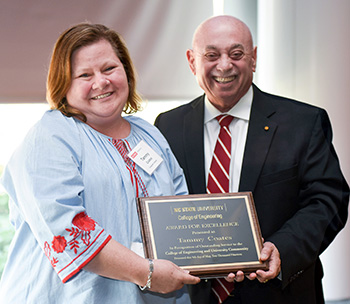 The Department is pleased to announce that Tammy Coates was named one of two EHRA Award for Excellence recipients.
Coates was nominated in the Customer Service category. Per her nomination, "The great pop icon and philosopher Bob Dylan said, 'It may be the devil or it may be the Lord, but you're gonna have to serve somebody.' I nominate Tammy Coates because she serves everyone! And it is not just that she serves, but the fact that she does so in such a selfless way, always putting the other person's or department's needs ahead of her own. Her complete and total focus on customer service has made an indelible mark on the lives of so many. After a decade of outstanding service, the results of her efforts are woven into the fabric of our department. She has left her mark, and continues to do so, and we are most fortunate to have her on our team."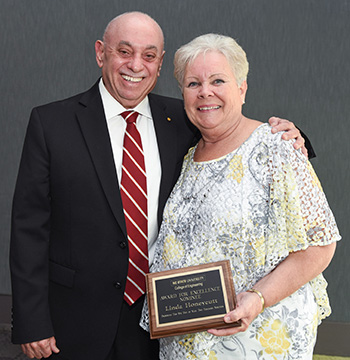 Honeycutt was also nominated in the Customer Service category. Per her nomination, "Linda is amazingly efficient and hardworking, does an excellent job of supervising staff, and juggles more responsibilities that I even know. She is extremely reliable, is very careful with sensitive information, and is always a pleasure to work with. It is inspiring to work with employees like her."
The Awards for Excellence program recognizes the accomplishments and achievements of permanent NC State employees at both the unit and University levels who do not hold faculty rank. Award recipients received eight hours of paid time off, a $250 check and a plaque.
Coates is now a nominee for the university-wide Awards for Excellence, to be held on June 11, where the twelve possible winners receive an additional eight hours of paid time off, a cash award of $1,000, and an engraved award plaque. The NC State University Awards for Excellence recipients are then submitted for consideration for the Governor's Awards for Excellence, which is the highest honor awarded to a State of North Carolina employee.
For more information on the College of Engineering Awards for Excellence and a complete list of award recipients, please click here.
~###~
Return To News Homepage