CSC News
May 16, 2019
Computer Science Department Recognizes Outstanding Seniors
Each year the NC State College of Engineering Outstanding Senior Awards recognize students for outstanding performance beyond academic achievement. Each department within the College of Engineering recognizes up to four seniors, one each for Leadership, Scholarly Achievement, Citizenship and Service, and Humanities. These departmental winners then become the department's nominees for the college awards.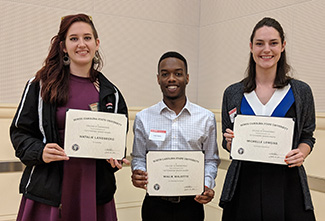 The 2018-2019 Computer Science outstanding seniors were recognized during the Computer Science Student Awards Ceremony on April 29th. This year's recipients are pictured at right:
Natalie Landsberg, Senior Award for Leadership – Natalie's numerous leadership roles, in addition to her fine record of scholarship distinguish her as a deserving recipient of this award. She was a Computer Science Student Ambassador, and the President of Women in Computer Science (WiCS). She was active in Women in Science and Engineering (WISE) and GirlsMakeGames as both a counselor and an ambassador. She has also been an E115 lab instructor and lab administrator. Through participation in a variety of groups, associations and initiatives, Natalie has demonstrated outstanding leadership.
Malik Majette, Senior Award for Citizenship and Service – While maintaining an excellent record of scholarship in his computer science major and cognitive science minor, Malik has shown a commitment to the betterment of his fellow citizens through a variety of activities aimed at broadening participation in STEM. Malik was extremely active in the National Society of Black Engineers (NSBE) serving first as the NC State Chapter Academic Chair, then the Region 11 Academic Excellence Chair, and finally as the National Academic Excellence Chair. Malik was also a Computer Science Student Ambassador, and has also been a computer science teaching assistant, and a STEM subject area tutor for elementary school children.
Michelle Lemons, Senior Award for Scholarly Achievement – Michelle excelled in her academic performance in Computer Science, as well as her second major of Economics and her minor studies in Spanish. She graduated as a Valedictorian and completed the University Scholars Program. While maintaining a perfect 4.0 GPA, Michelle found time to participate in numerous extracurricular activities. She was a Computer Science Student Ambassador, a member of WiCS, the Austrian Economics forum, and was an active member of NC State's Vox Acalia Women's Choir and the NC State Chorale.

Hayden Lawrence, Senior Award for Humanities (not pictured) – A December 2018 graduate, Hayden demonstrated academic success in both computer science and political science (4.0 GPA). Active in the Benjamin Franklin Scholars program, Hayden was the program president for 2017-2018. He not only demonstrated equal commitment to his political science studies, he synthesized them with his computer science major. His Benjamin Franklin Capstone Project focused on the history and current status of autonomous, automatic, and automated weapons in warfare. In addition to his accomplishments in academia, Hayden, who is an Eagle Scout, volunteered with Engineering Opportunity Robotics teaching both robotics and programming to disadvantaged and homeless youth.
In addition to winning the Senior Award for Citizenship and Service, Malik Majette was also named the Computer Science Faculty Senior Scholar, the department's nominee for the College of Engineering Faculty Senior Scholarship Award. This is one of the most prestigious undergraduate awards in the College of Engineering. It is awarded to a full-time student who exemplifies academic excellence, intellectual breadth and depth of character. Each year, every department in the College nominates one candidate to compete for the award. The nomination itself is an important recognition of a student's outstanding academic, extra-curricular, and community achievements.
Congratulations to these outstanding seniors in the NC State Computer Science Department! We take great pride in them as they serve as tremendous representatives of the department, the college and the university.
~coates~
Return To News Homepage