CSC News
May 08, 2019
Two Faculty Win Holladay Medal
Executive Vice Chancellor and Provost News
Two faculty members received the Alexander Quarles Holladay Medal for Excellence, the highest honor bestowed by NC State and the university's Board of Trustees. Chancellor Randy Woodson recognized the awardees during 2019 Celebration of Faculty Excellence on May 1.
The 2019 honorees are:
Donald Bitzer

, Distinguished University Professor, Department of Computer Science
Youngsoo (Richard) Kim

, Jimmy D. Clark Distinguished University Professor in Civil, Construction and Environmental Engineering
The award was named in honor of Alexander Quarles Holladay, NC State's first professor of history and its first president. This year's award winners have made outstanding and sustained contributions to the university through achievements in research, teaching, or extension and engagement. Honorees receive an engraved medal and framed certificate, and are recognized at spring commencement.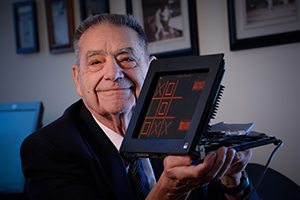 Bitzer (pictured at right) earned his Ph.D. in electrical engineering from the University of Illinois. His scholarship focuses on computer systems, computer displays, data communications, voice analysis, and genetics to amplify protein production. He is also the inventor of plasma panel displays used for flat panel television displays. Dr. Bitzer is a member of the National Academy of Engineering and is a Fellow in the American Association for the Advancement of Science, the Institute of Electrical and Electronics Engineers, and the International Engineering Consortium.
In 2002, he received the National Academy of Television Arts and Sciences Emmy for Scientific Development and Technical Achievement for the development of plasma displays. Bitzer was elected a Laureate of the Lincoln Academy of Illinois, an honor bestowed by the State of Illinois for achievement of Illinois citizens in the betterment of human endeavors. He has also received the Vladimir K. Zworykin award of the National Academy of Engineering.
Kim earned his Ph.D. in civil engineering from Texas A&M University. His research interests include the laboratory and field aspects of the performance evaluation of asphalt materials and pavements. He has received more than $18 million in research funding from national and international agencies, and has published more than 300 papers in technical journals and proceedings.
Kim has won numerous awards, including the Alcoa Foundation Engineering Research Achievement Award, the NC State Alumni Association Outstanding Research Award, the Alcoa Foundation Distinguished Engineering Research Award, inaugural membership of the NC State Research Leadership Academy, and the R. J. Reynolds Tobacco Company Award for Excellence in Teaching, Research, and Extension. He was elected as one of the 100 Changjiang Scholars in 2016, which is the highest academic award bestowed upon an individual in higher education by the Ministry of Education of the People's Republic of China.
-packard-
Return To News Homepage