CSC News
April 19, 2019
Senior Design Center's "Posters & Pies" Planned for April 28th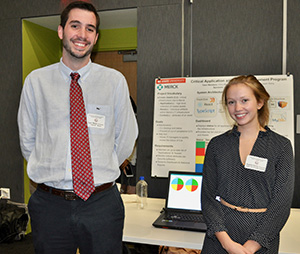 Please join us for the NC State Department of Computer Science Senior Design Center "Posters & Pies" event on Sunday, April 28 from 5:00-8:30 p.m. Each student team will give a brief presentation of their Senior Design project in the James B. Hunt Jr. Library Auditorium. After the presentations, pizza and dessert pies will be served, and you can enjoy project demonstrations and poster displays in the Hunt Library IEI Duke Energy Hall.
The event is sponsored by Builder's Mutual, Dell EMC, and LabCorp, as well as the Computer Science ePartners Program and the NC State Engineering Foundation.
For directions to the Hunt Library and parking information, please go to: http://www.lib.ncsu.edu/parking
Please note: parking on campus will be free for this event on a space-available basis (excluding 24-hour reserved spots). Handicap spaces may be used with any state-issued placard or plate.
If you plan to attend, please register HERE by Thursday, April 25th, so that we may properly plan for refreshments.
This semester, the sponsors and projects are as follows:
BCBS of NC:

Predicting Future Diagnoses

DeHaan:

srcOptics

Duke Energy:

MyMet - Weather Data Calculation Engine

Fidelity Investments 1:

Cloud-Hosted User Profile

Fidelity Investments 2:

Code Crowd Sourcing

Industrial Engineering:

Resource Allocation Game

Microsoft:

Quantum Hardware Test Analysis Dashboard

NetApp:

NetApp Application Awareness: Application Recommendation using Machine Learning

SAS:

Automatic Speech Transcriber

TradeTec:

TradeTec Offer Sheet Portal

Advance Auto Parts:

CarLink

Applied Ecology:

Pollinator Garden Planner

BlackBerry:

Central Test Management Web App

Bugle:

Bugle Interactive Tracker

Deutsche Bank Global Technology:

Machine Learning Market Predictions

Siemens Healthineers:

Predicting Root Cause System Failures with Machine Learning & Natural Language Processing

BB&T:

SIEM CITY

Cisco:

Performance Study of Quantum Secure Signature Algorithms

Dell EMC 1:

Enhancing the Mobile Experience in Engineering Service Management

Birlasoft 1:

Pharma Block

LexisNexis:

PowerKnowledge

Merck 1 (ASSIST):

HET Companion

Merck 2:

Supplier Inventory Risk Management System

Wake Tech:

AR Protein Dynamics

Bandwidth:

Call Recording Analysis

Dell EMC 2:

Read Optimization Using Learning Profiles

Foresite:

Real Estate Data Governance Framework

Fujitsu America:

MarketPlace Migration and Re-Factoring

Gradesnap:

Simplifying Computer Science Instruction for NC Teachers

Birlasoft 2:

canScan

LAS:

Schedule-Based Load Optimization

NC Collaborative:

Helping Hands Training Portal

Triangle Strategy:

Remynda
Please come join us! The media is welcome to this event.
Senior Design Center contacts:
Ms. Margaret R. Heil, Director, (919) 515-6020, heil@csc.ncsu.edu
Dr. Lina Battestilli, Technical Advisor, lbattestilli@ncsu.edu
Mr. Michael DeHaan, Technical Consultant, mpdehaa2@ncsu.edu
Dr. Jamie Jennings, Technical Advisor, jjennings@ncsu.edu
Dr. Jason King, Technical Advisor, jtking@ncsu.edu
Dr. David Sturgill, Technical Advisor, dbsturgi@ncsu.edu
Dr. Ignacio Domínguez, Technology Specialist, ixdoming@ncsu.edu
Mr. Zachary Cleghern, Teaching Assistant
Mr. Abhishek Pandey, Teaching Assistant
Ms. Sarah Elder, Teaching Assistant
Mr. Brantley Collins, Teaching Assistant
Media & Corporate Partnership contact:
Ken Tate, (919) 513-4292, kmtate2@ncsu.edu
~coates~
Return To News Homepage