CSC News
January 22, 2019
Seltzer Joins CSC Staff as Director of Development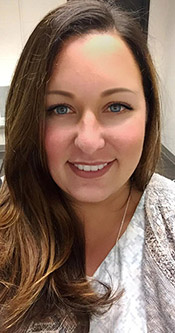 The Department of Computer Science is pleased to announce the addition of Sara Seltzer as Director of Development, a role in which she will be responsible for engagement and major gift cultivation for the department's 9,000+ alumni.
Officially a member of the NC State Engineering Foundation staff, Seltzer will also serve as Director of Development for the Department of Materials Science and Engineering.
Seltzer joined NC State University in February 2013 as a development specialist for Arts NC State where she helped make the Gregg Museum Building Campaign a success. Shortly thereafter, she was promoted to Assistant Director of Development for the Division of Academic and Student Affairs' development office to build the division's pipeline of support from the ground up. She secured several major gifts for the division and developed many valuable relationships, both externally and internally.
Prior to NC State, Seltzer worked in development for the Brevard Music Center, just south of Asheville, NC. She received her bachelor's degree in management from Stetson University's School of Business and holds a master's degree in arts administration from the Savannah College of Art and Design. She brings nearly eight years of experience working in advancement including, major gifts, annual giving, planned giving, prospect management, development writing, alumni affairs, communications, board development and discovery work.
"We are very excited to have Sara join our team", says department head, Dr. Gregg Rothermel. "Sara brings not only an impressive track record as a major gifts officer, but also a passion for data analytics that would impress anyone in our discipline. She has a very positive and energetic personality, and I think our alumni are going to really appreciate the passion she brings to her role. We look forward to her developing strong relationships with our incredible alumni and helping them discover how they can make a difference in the life of our department."
Ken Tate, director of engagement and external relations, says that Seltzer's addition is very timely. "One of the very first things we're going to ask Sara to do for us is to coordinate a series of 'Meet the new Department Head' events. It's just as important that our alumni in Silicon Valley and Seattle get to meet Dr. Rothermel as it is for our North Carolina alums," says Tate. "This is the perfect time for Sara to get out and meet lots of our alumni across the nation."
~###~
Return To News Homepage