CSC News
January 09, 2019
Scholarship Endowment to Honor Dr. Robert Funderlic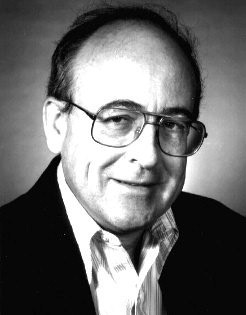 The Department of Computer Science at NC State University is pleased to announce the creation of the Dr. Robert E. Funderlic Scholarship Endowment to honor the Professor Emeritus and former department head, who passed away in 2009.
The endowment, seeded by a lead pledge from Computer Science alumnus, Dr. Andy Smith (BS '95, MS '97, PhD '04), will generate merit-based scholarship funds with a preference for computer science undergraduates at the junior level or higher, who are at least eight years post-graduation from a high school in North Carolina. Dr. Smith is pledging to match dollar-for-dollar the collective donations from other alumni, family and friends up to $25,000 to help create the endowment.
Dr. Smith recalls the impact that Dr. Funderlic made on his life as his academic mentor. "Bob Funderlic was a learned, wise, and caring man who was an inspiration to me as my PhD advisor. He was a fine numerical analyst, mathematician, and computer scientist, justifiably proud to have been Alston Householder's student. He also seemed to enjoy human interaction at least as much as the joy of discovery and proof. He did not proselytize, but those who spent much time with him could see his faith informed his daily life. He advocated for including a course in Computer Ethics, and taught it, because he believed computer scientists would necessarily confront ethical issues. How prescient that seems in light of ethical lapses at several of the larger tech firms. I still miss him."
"We are so thankful to Andy for this most thoughtful and generous gift," says Dr. Gregg Rothermel, current department head. "What a wonderful way to honor Dr. Funderlic's impact and legacy as a former department head."
Dr. Funderlic provided transformative leadership during his tenure as department head from 1986 to 1992. During this period, computer technology was advancing so quickly, that equipment and laboratories quickly became obsolete. He helped establish the Computer Systems Laboratory (CSL) to help maintain the latest technologies. Additionally, he worked to secure dedicated teaching spaces in Leazar and Withers Halls for the growing discipline. In 1990, Withers Hall became the home of the NC State Department of Computer Science, where it remained until moving to Engineering Building 2 (EB2) on Centennial Campus in 2006.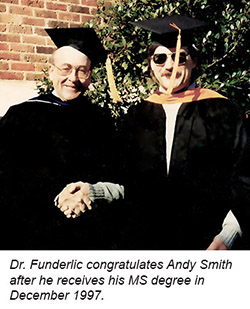 Besides the improvements in facilities and equipment, under Dr. Funderlic, the department expanded its areas of research specialties and minor fields, including minors in Computer Science and a graduate minor in Artificial Intelligence, which at the time was one of the most important trends in the department.
Also under his leadership, Computer Science became a department within the College of Engineering, and a PhD program was established. The independent PhD program placed NC State on solid footing in order to compete with other topflight computer science programs in the country and improved the university's reputation and its ability to strengthen areas of faculty interest.
Not only was Dr. Funderlic an exceptional administrator, he was also a beloved educator. Because his best university times were spent with students as they explored their potential, Dr. Funderlic received the George H. Blessis Teaching and Advising Award in 1997. He also proudly served as the liaison for Aquinas House, the Catholic center at NC State.
"Bob Funderlic was a leader, a visionary, an award-winning educator, and an internationally recognized numerical analyst," said Dr. Mladen Vouk, former department head and current vice chancellor for research and innovation. "He provided critical leadership during the formative years of the department, and he laid the foundations of the department we know today."
Individuals or corporations interested in contributing to this fund can complete and submit a pledge form along with a check made payable to the "NC State Engineering Foundation" noting for the "Dr. Robert E. Funderlic Scholarship Endowment" in the memo section. Donations can be sent to the NC State Department of Computer Science, Attn: Ken Tate, Campus Box 8206, Raleigh, NC 27695.
~###~
Return To News Homepage