CSC News
December 20, 2018
CSC Graduates Honored During Fall 2018 Diploma Ceremony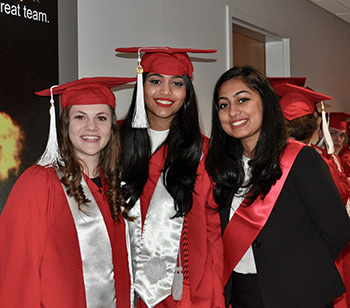 The James T. Valvano Arena inside NC State's Reynolds Coliseum was filled with friends and family celebrating the Fall 2018 computer science graduates. This fall's graduating class of over 200 students class included 18 Ph.D., 99 M.S., and 92 B.S. degree recipients. The top employers of this year's graduates are Amazon, Microsoft, SAS, Facebook, Citrix and VMware.
The undergraduate class included ten Valedictorians with a perfect 4.0 GPA: Ruben Andres Barahona Shadid, Kevin Andrew Bartushak, Jacob A, Ferrero, Connor James Hall, Hayden V. Lawrence, Tam Hoai Le, Duncan M. Page, Alexander E. Peck, Alec Robert Rohloff, and Jiaman Wu; seven Computer Science Honors Program participants: Daxit Agarwal, Zackary Robert Allen, Apeksha Awasthi, Kevin Andrew Bartushak, Matthew Barton Bennison, Jane Hilz, and Matthew L. Meeks; twelve University Scholars Program participants: Matthew Barton Bennison, Gayle C. Bussell, Rafael Ignacio Esteller, Connor James Hall, Joshua Kayani, Tam Hoai Le, Samuel Carey McMurray, Melissa Kay Novitsky, Daniel Frank Schaffer, Robert F. Seligson, Amy Suh, and Stuart Allen Wells, and numerous members of a variety of scholastic honor societies.
We were honored to have computer science alumnus William G. Pagán serve as the keynote speaker. Pagán is a multi-award-winning patent attorney, a member of the NC State Computer Science Alumni Hall of Fame, and a named inventor on over 130 patent applications.
In his remarks, Pagán challenged the graduates to be "rock star" engineers in terms of how they solve the problems of the future. But to stand out and make the greatest impact, they need to be excellent sales people, motivators, leaders and collaborators. Thought leaders are more valuable than those who simply turn the crank. He challenged them to develop these skills that will help them get their ideas adopted early in their careers. It's not enough to be right, you must be believed and trusted. He encouraged them to seek out mentors to help them develop these skills.
The ceremony was streamed live to over 1,500 viewers around the world and can be viewed online on the department's YouTube Channel. (link YouTube Channel to https://www.youtube.com/channel/UCSIAvdy4KEeWaFa8RbhY0sg.
Our special thanks go to the Computer Science Department ePartners Program, its participating corporate sponsors, and the NC State Engineering Foundation for their generous sponsorship of this event.
Congratulations CSC Class of 2018!
~coates~
Return To News Homepage