CSC News
November 14, 2018
Fall Diploma Ceremony Set for December 19th in Reynolds Coliseum
You are invited to attend the NC State University Computer Science Department Fall Diploma Ceremony on Wednesday, December 19th at 7:00 p.m. The ceremony will be held in William Neal Reynolds Coliseum on the campus of NC State University, located at 2411 Dunn Avenue, Raleigh (directions).
Approximately 200 graduates are expected to receive their degrees during the ceremony. Our special thanks go to the NC State Engineering Foundation and the ePartners Program for their generous sponsorship of this event.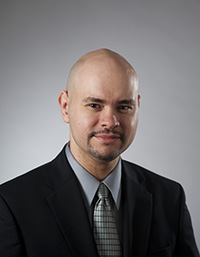 William G. Pagán (M.S. CSC 2003) will provide the keynote address. Pagán is a multi-award-winning patent attorney, a member of the NC State Computer Science Alumni Hall of Fame, and a named inventor on over 130 patent applications; an achievement that earned him the title of Master Inventor over the course of nearly 15 years of developing patentable technologies for IBM in various software/hardware engineering and intellectual property roles. In 2010 in particular, he was named IBM's RTP Inventor of the Year.
Nationally-recognized as a Hispanic Luminary in the STEM disciplines at the Hispanic Engineering National Achievement Awards Conference, Pagán has significant technical expertise in software, computers, telecommunications, consumer electronics, systems management, and related fields. In addition to his Master's and Bachelor's degrees in Computer Science, he graduated Summa Cum Laude (highest honors) from NCCU Law as their Evening Program valedictorian.
He uses his engineering and business background to represent inventors, developers, and content creators in obtaining, enforcing, and monetizing patent, copyright, and trademark rights. He also helps technology companies understand and navigate the intellectual property rights of others, among other things. His experience as a private patent attorney, corporate patent engineer, and hardware/software developer gives him significant insight into the legal, business, and technical sides to patent development, enforcement, valuation, licensing, and transfer objectives.
Pagán's professional engineering experience includes over a decade in IBM's server development business, leading teams across companies and geographies in the development of software that interfaces with micro-controllers and embedded software in IBM's Intel x86/64 and Power PC-based server architectures. His leadership work on IBM's Intel-based Thurley platforms in particular won him an Outstanding Technical Achievement Award. He also earned a Star Award from the Distributed Management Task Force for his work in developing systems management protocol conformance programs.
Pagán's leadership throughout his storied legal and engineering careers has also been marked by committed volunteer service and mentorship. One way in which he serves his community is as the NC Wing Legal Officer of the Civil Air Patrol (CAP), United States Air Force Auxiliary, in which he holds the grade of Captain. For his pro bono service, he was admitted to the NC Pro Bono Honor Society of 2017.
Pagán's leadership in the legal and engineering professions have been recognized numerous times over. In 2016 and 2018, he was the recognized by NC Lawyers Weekly as one of their Leaders in the Law; a honor given to only 30 or so attorneys statewide each year. He was also honored in 2018 as one of NCCU's Top 40 Under 40; an honor only given biennially to outstanding alumni for significant contributions in the arts, law, entertainment, healthcare, sciences, the military, education, business, philanthropy, and public service.
NOTE TO GRADUATES: For the benefit of relatives and friends who may not be able to attend the event in person, the event will be available online via live video streaming at http://go.ncsu.edu/csc-diploma.
Parking is available in the Coliseum Parking Deck located at 201 Jeter Drive. For the convenience of guests who might require overnight accommodations, there are a number of hotels located in the immediate area. For more information, click here.
There are several ways to commemorate this special occasion. As each graduate is handed his/her diploma, a professional photographer will take his/her picture. A free color proof will be sent to each graduate's current mailing address, including a password for online viewing. There is no obligation to purchase prints. To receive email notification when photos are online, please visit www.photospecialties.com to pre-register. If a proof is not received within a week of the ceremony, please contact info@photospecialties.com or call 1-800-722-7033.
~coates~
Return To News Homepage