CSC News
November 13, 2018
Senior Design Center's "Posters & Pies" Planned for December 7th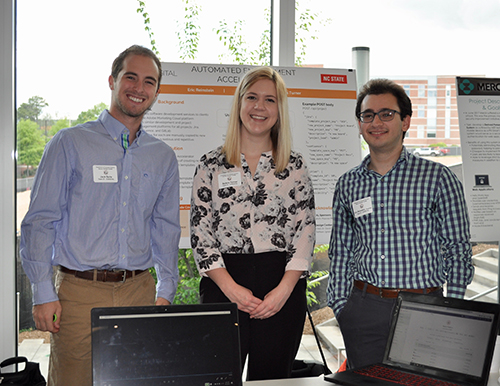 Please join us for the NC State Department of Computer Science Senior Design Center "Posters & Pies" event on Friday, December 7th, from 5:30-8:00 p.m. Each student team will give a brief presentation of their Senior Design project in the James B. Hunt Jr. Library Auditorium on NC State's award-winning Centennial Campus. After the presentations, pizza and dessert pies will be served, and you can enjoy project demonstrations and poster displays in the Hunt Library IEI Duke Energy Hall.
The event is sponsored by Builders Mutual, Charles Schwab, and Mediant, as well as the Computer Science ePartners Program and the NC State Engineering Foundation.
For directions to the Hunt Library and parking information, please go to: http://www.lib.ncsu.edu/parking
Please note: Parking on campus is free after 5:00 pm on a space-available basis (excluding 24-hour reserved spots). After 5 pm, handicap spaces may be used with any state-issued placard or plate (before 5 pm, NC State-issued handicap permits are required).
This semester, the sponsors and projects are as follows:
BCBS of NC:

Social Science Research & Analytics - Public Opinion of Healthcare

BlackBerry

:

BlackFish Dashboard

Bronto

:

Littlefoot - A Testing Framework

Bugle

:

Interactive Event Tracker

NCSU Dept of Applied Ecology

:

Pollinator Garden Planner

KPIT

:

WOLFS - Windchill One-line Feature-update System

LabCorp

: Appointments by Alexa

Siemens Healthineers

:

Framework for Predicting Part Failure

Bandwidth

:

Billing Data Mining Framework

Cisco

:

Automated Device Importer for VIRL

Deutsche Bank Global Technology

:

TIRA - Text & Image Reader Application

Entrepreneurs

:

Clubly - No More Missing Out

FIRST

:

Tech Challenge Live

NetApp

:

OSART - ONTAP Security Audit & Remediation Tool

Principled Technologies

:

AIXPRT - A Machine Learning Benchmarking Tool

SAS

:

Pluggable Cloud Database Platform

Advance Auto Parts

:

Resilient Map Service

BB&T

:

Super Speedy Server Scanner

Charles Schwab

:

Automated Validation of OpenAPI Documents

EcoPRT

:

Vehicle Network Controller

LexisNexis

:

PowerKnowledge

Merck

:

Critical Application & Asset Management Program

Pendo

:

NPS Sentiment Analysis

Wake Tech

: Augmented Reality for Visualizing Protein Structure
If you plan to attend, please register online at http://www.csc.ncsu.edu/rsvp/posters-pies/ by Tuesday, December 4th, so that we may properly plan for refreshments.
Please come join us! The media is welcome to this event.
Senior Design Center contacts:
Ms. Margaret R. Heil, Director, (919) 515-6020, heil@ncsu.edu
Dr. Sarah Heckman, Technical Advisor, sarah_heckman@ncsu.edu
Dr. Jamie Jennings, Technical Advisor, jjennings@ncsu.edu
Dr. Lina Battestilli, Technical Advisor, lbattestilli@ncsu.edu
Mr. Michael DeHaan, Technical Consultant, mpdehaa2@ncsu.edu
Mr. Nick Freeman, Technology Specialist, ndfreema@ncsu.edu
Dr. Jason King, Technical Advisor, jtking@ncsu.edu
Mr. Abhishek Pandey, TA aapandey@ncsu.edu
Dr. Ignacio Domínguez, TA ixdoming@ncsu.edu

Media & Corporate Partnership contact:
Ken Tate, (919) 513-4292, kmtate2@ncsu.edu
~coates~
Return To News Homepage