CSC News
November 09, 2018
Gordon, Lehrer, Weinberg and West Receive DEA Awards
Darsee Heath | College of Engineering News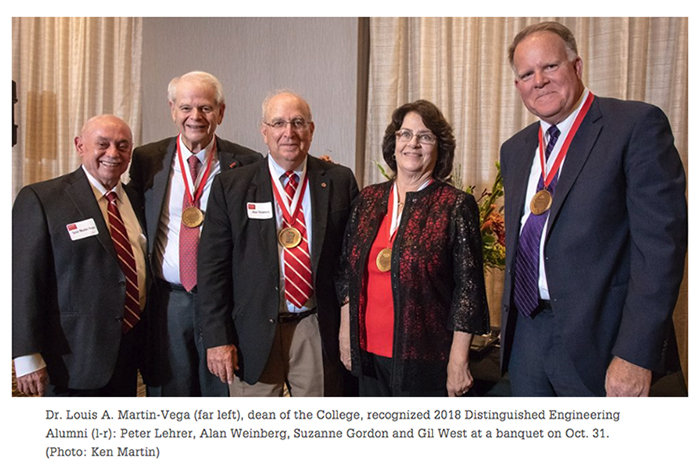 The College of Engineering at North Carolina State University bestowed the Distinguished Engineering Alumnus award on Suzanne Gordon, Peter Lehrer, Gil West, and Alan Weinberg.
Dr. Louis A. Martin-Vega, dean of the College, recognized Gordon, Lehrer, Weinberg and West at a banquet on Oct. 31.
Gordon earned her bachelor's degree in computer science and mathematics in 1975 and master's degree in statistics from NC State in 1980. During her 30+ years at SAS Institute, she held a variety of key leadership roles, rising to vice president of information technology, and eventually chief information officer, at the world's largest privately held software company. While at SAS, Gordon was named a Premier 100 IT Leader by Computerworld and was recognized by the Triangle Business Journal as one of the region's top 25 women in business.
She is the current president of the NC State Engineering Foundation Board of Directors and is the first woman to hold that position. She was a member of the NC State Board of Trustees from 1999 to 2009 and has served on the Alumni Association Board of Directors and on the College of Management Advisory Board. She is a Distinguished Alumna of the College of Physical and Mathematical Sciences. Additionally, Gordon has made a significant impact over time in the area of community and public service. For more than a decade, she has worked with Communities in Schools (CIS) of Wake County, serving on the CIS board for most of that time and serving as board chair from 2012 to 2014. She launched a nonprofit, Gordon Services, which provides young, at-risk people with guidance and experience in the professional world.
Lehrer earned his bachelor's degree in civil engineering from NC State in 1963. In 1979, Lehrer co-founded Lehrer McGovern, Inc., a construction management firm that consistently ranked as one of the top construction companies in the country. After the firm merged into Bovis, Ltd. (London), in 1988, he became vice chairman of Bovis, Ltd., and chief executive officer of all U.S.- based subsidiaries. Previous projects include the 1996 Atlanta Olympic Games, Euro Disneyland, Canary Wharf, and restoration of the Statue of Liberty and Ellis Island.
Currently, he is the chief executive officer of Lehrer Cumming, a division within Cumming Corporation focused on client markets in Boston, New York City, Washington, D.C., and Miami. In 1996, he founded Lehrer, LLC to provide construction consulting services to owners, developers, and institutions engaged in major capital projects who rely on experience, tenacity, and the ability to find logical, strategic and economic solutions to complex problems. Lehrer, LLC's July 2018 merger with Cumming expanded the breadth and depth of the company's expertise. Lehrer is a member of the board of the National September 11 Memorial & Museum, the Statue of Liberty-Ellis Island Foundation and White Plains Hospital.
Weinberg earned his bachelor's degree in chemical engineering from NC State in 1963. After a 36-year career at Cryovac, he retired as global vice president of technology with 29 years in RD&E and seven years in marketing and business development. He authored 15 original patents and saw Cryovac global sales grow from about $100 million to almost $3 billion with operations in more than 20 countries and several RD&E facilities.
He is a previous member of the Society of Plastics Engineers, the Department of Chemical Engineering's Advisory Board at Clemson University, and the Department of Chemical and Biomolecular Engineering's Alumni Advisory Board at NC State. He has served on various community boards including the Warehouse Theater, the International Chamber Music Series, and the Osher Lifelong Learning Institute (OLLI) at Furman University. He was president of OLLI at Furman for a term and continues to teach and attend classes there.
West earned his bachelor's degree in mechanical engineering from NC State in 1984. Additionally, he received a Master of Business Administration degree from National University in San Diego. As senior executive vice president and chief operating officer for Delta Air Lines, he leads the team responsible for safe, reliable operations across the globe, including more than 70,000 employees in Airport Customer Service; Cargo; Corporate Safety, Security and Compliance; Delta Connection; DAL Global Services; Delta Material Services; Delta Private Jets; Fleet Strategy & Technical Procurement; Flight Operations; In-Flight Service; Operations Analysis & Performance; Operations & Customer Center; Supply Chain Management; and Technical Operations. Previously, he served as senior vice president–airport customer service and technical operations.
Prior to Delta, he worked for Laidlaw Transit Services as president and chief executive officer and also held leadership roles at Northwest Airlines, United Airlines and The Boeing Company. He serves as a key alumni volunteer in the Atlanta area and is an annual contributor both to the Dean's Circle and Fitts-Woolard Hall. West is also assisting the University in forming a "C-Suite Advisory Group" consisting of the College's top alumni and is a 2016 inductee into the Department of Mechanical Engineering's Hall of Fame.
Under the leadership of the late Dean Ralph Fadum, the Distinguished Engineering Alumnus Award was established by the faculty of the College of Engineering at NC State in 1966 to honor engineering graduates who have been recognized for outstanding achievements in one or more of the following categories:
Planning and direction of engineering work

Fostering professional development of young engineers

Contributing to knowledge in the field of engineering

Bringing, in other ways, distinction to the University through engineering achievement.
~heath~
Return To News Homepage