CSC News
October 01, 2018
Marbles Kids Code Helps Spark Interest in Technology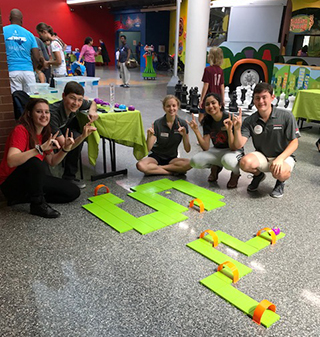 Marbles Kids Code on September 22 was a great opportunity for NC State Computer Science (CSC) Student Ambassadors to help local children learn more about coding, computer science and STEM careers. Kids Code, which is targeted to kids ages 6-10, is a day to inspire kids to learn about coding, spark an interest in coding careers, and share ways to encourage coding and computer science exploration at home.
CSC Ambassadors Anna Chernikov, Anastasia Egorova, Natalie Landsberg, Jimmy Long, Anam Navied, and Neill Robson spent the day helping spread the joy of computing at the Marbles Kids Code event. They helped the participants with hands-on demonstrations with "Ozobots" and "code and go" robot mouse toys. Parents learned new things about their children's skills and interests and ways to support continued exploration at home.
More than 2,000 kids and family members were in attendance at the event held at the Marbles Kids Museum in downtown Raleigh.
~coates~
Return To News Homepage