CSC News
September 28, 2018
Fidelity Investments Speakers Series Welcomes Amazon's Larry Weber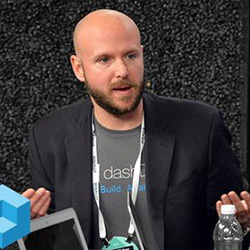 Please join us on October 23rd at 6:30 p.m. in room 1231 in Engineering Building 2 for the second talk in the Fall Fidelity Investments "Leadership in Technology" Speakers Series.
Our special guest speaker will be Larry Weber, Head of Product Marketing, AWS Relational Databases at Amazon. His talk topic will be From Ground to the Cloud: The Evolution of the Relational Database.
Weber leads the team that is responsible for bringing AWS database and data migration services to market. From commercial through open source databases, as well as AWS's own Amazon Aurora, these managed data services are empowering organizations across the globe. Prior to this role, Weber ran product marketing for IBM Watson Data Platform, redefining the way that developers interacted with IBM's cloud data services. He also spent considerable time in data warehousing, launching the company's original data warehouse appliances. Weber is a Masters of Computer Science graduate from NC State and holds a BS from Syracuse and an MBA from UNC. After many years in the Research Triangle for school and work, he now resides in Seattle, WA with his wife and two boys.
Abstract: The cloud has become the new normal as organizations of every size are deploying applications to the cloud by default, and migrating existing on-premises applications at a rapid pace. In concert with this, application developers have become empowered with an increasing selection of tools and services, many available for free as open source and available on demand. At the center of the discussion is the database, as data will be generated, delivered, analyzed, and stored across all of these apps.
In this presentation, we will dive into the world of the relational database, including a brief history and how it has transformed in the cloud era. Then, we will look at the rise of developer-friendly NoSQL databases that are workload-optimized, and explore how relational databases have evolved in response to the NoSQL phenomenon. Finally, we will discuss how the latest generation of relational databases have become native to the cloud and fully managed as a service. We will dive deep on AWS's own relational database built for the cloud, Amazon Aurora, and look at how its customers are using its cloud-native capabilities to their advantage.
The event is free and open to the public. Ample free parking is available on Centennial Campus after 5 pm. For directions and more information, click here.
These lectures have been approved by the CSC Graduate Oversight Committee to count toward the required lectures for graduate students.
~coates~
Return To News Homepage